On the early morning of July 7, 2015, the feds raided the Indiana home of the "Subway Guy" Jared Fogle, who made millions of dollars as Subway sandwich's spokesperson, for child porn. (See "Feds raid home of 'The Subway Guy' for child porn")
Subway instantly discontinued its association with Fogle.
At the time, Fogle's lawyer vehemently insisted on his client's innocence.
It turns out not only is Fogle a child-porn voyeur, he's a practicing pedophile.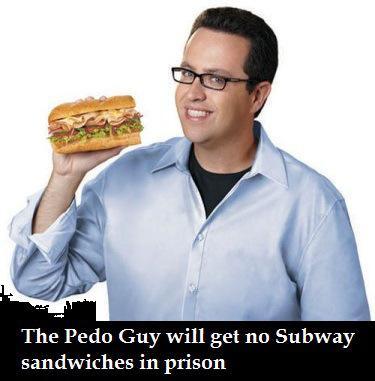 CNN reports that yesterday, Fogle reached a plea agreement with prosecutors wherein he pleads guilty to possessing and distributing child porn, and to traveling across state lines to have sex with minors — at least two teenage girls.
If the court approves the agreement, Fogle will serve between 5 and 12½ years in prison. Under the plea deal, the government agrees to recommend less than 13 years in prison for Fogle, in return for Fogle agreeing to ask the judge for no less than a 5-year prison term.
According to the plea deal and indictment:
• Between 2011 and April 2015, Fogle received many pornographic images of minors engaging in sexually explicit contact from Russell C. Taylor, the former executive director of Fogle's kid-oriented non-profit, the Jared Foundation.
• Fogle had conversations with Taylor about the child porn, but instead of alerting authorities, he "chose to benefit from such production by obtaining access to a significant amount of such material."
• The images and videos were recorded by Taylor at his home through the use of hidden cameras.
• Between 2010 and February 2013, Fogle traveled from Indiana to New York to pay to have sex with minors.
• One victim told investigators when Fogle had sex with her  three times when she was 16, and that when she was 17, she twice had paid sex with Fogle in two New York City hotels — the Plaza and the Ritz Carlton.
• Prosecutors say that text messages, travel records, hotel records and a search of Fogle's home provided evidence of these arrangements.
• The same minor said Fogle also had sex with another 16-year-old girl on another occasion.
• Prosecutors say they have talked to witnesses who can testify about conversations Fogle had with them offering a "finder's fee" for seeking minors for him.
Under the plea deal, Fogle must adhere to a pornography ban and sexual disorders treatment, have no unsupervised visits with minors, and submit to computer monitoring.
H/t FOTM's MomOfIV
~Éowyn