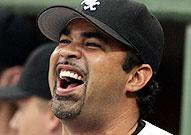 Despite sitting out tonight suspended for bashing the umps on Twitter, Ozzie Guillen's probably having a good laugh in Chicago tonight.
His former least-favorite reliever Bobby Jenks led the Red Sox Bullpen Arsonists in handing a win to the Seattle Mariners, giving up three runs in the seventh inning and blowing a two run lead, 5-4. His ERA on the young season is now a very embarrassing 8.64.
And losing to the bottom team in the AL West at home is never a good thing. And now the Red Sox officially will have a losing record for April.
Seems like the only reliever Terry Francona can count on these days is Jonathan Papelbon.
Jenks maybe a stiff, but Daisuke Matsuzaka felt stiff, left in the fifth inning, allowing one earned run and the reports were he had elbow tightness.
Uh-oh. That is

NEVER

a portend of good things ahead.
Mike Cameron hit two solo home runs, but the offense disappeared in the final four innings, as the last 12 hitters went down consecutively.
All the best to Jerry Remy, who missed another game in the booth on Friday night, as NESN said he was "under the weather." Let's hope it's nothing more than that. Get well soon, RemDawg.