...it's
Tangerine
.*  That has been the predominant colour in the jewel of the north on this glorious 9th March, dubbed 'Homecoming Saturday' for thousands of Blackpool fans who have been boycotting games for over four years in protest against the Oyston family's poor custodianship and 'illegitimate stripping' of our football club. The day on which the fans finally reclaimed their club and the club got its fans back will go down as another famous date in the annals of Blackpool FC.
If anyone ever doubted that the Oyston dynasty would eventually be toppled, last Sunday's
Observer
  put it quite succinctly: "And now, after perhaps the most brilliantly orchestrated and devoted fan protest there has been in English football, his time is up."
Finally, the odious ones are gone, removed from the board of the club earlier this month by a court-appointed receiver, and what a celebration we have enjoyed this afternoon, another magical day in the sun for 16,000 emotional Blackpool fans decked in tangerine who congregated opposite the tower and then marched in exuberant, carnival-style procession, banners, flags and scarves waving, all the way along the promenade and back into Bloomfield Road.
After a long campaign, waged on several fronts, this was a joyous return, one which many fans thought they might never see. As I wrote in yesterday's Blackpool Supporters' Trust column in the local Gazette: "... to the many thousands who over four seasons took a principled stand against seemingly unprincipled owners, thank you for your unwavering support in helping to bring this change about - and welcome home!"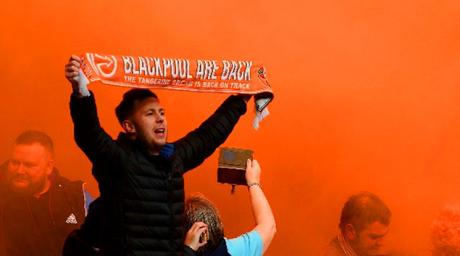 If the parade was exhilarating, with jelly and ice-cream on sale outside the ground as fans arrived, the atmosphere inside a packed stadium was simply electrifying, spine-tingling; the game itself almost secondary to the spectacle unfolding in the stands and the wall of noise that was Bloomfield Road rocking in cathartic release. To be honest, the players were probably a bit fazed - they've been used to performing in a three-quarters empty ground - but they gave it their all and came away with a 2-2 draw against a workmanlike Southend team.
Some of you know I moved up to Blackpool in mid-2013 on taking early retirement, to save the 450-mile commute to Bloomfield Road every other Saturday (and some week nights too). It's ironic then that having bought a house within walking distance of the stadium, I've been boycotting it for the best part of five years. Today has felt like a double home-coming and a new beginning.
When Blackpool got promoted to the Premier League back in 2010, there was a huge opportunity for the owners of the football club to do something quite remarkable for the club and the town with all the multi-millions that came pouring in over two or three seasons. A well-run and buzzing community club could have been the springboard to rejuvenating one of the most deprived areas in the country - but it didn't happen. We saw that legacy squandered, as the owners chose to milk their cash cow and live off the cream, siphoning off football club money, suing fans who dared to accuse them of improper practices, triggering a massive downturn in the local economy as the team plummeted down the divisions due to under-investment and the fans stayed away in their thousands (home and visiting supporters alike).
I hope that as from today that has all changed. BST's
Blackpool Are Back
scarves that people have been wearing over the last few days have the sub-text 'The tangerine dream is back on track.' Now that we've surely got rid of the Oystons, and once new owners are in place, we will have a chance to go again at making the football club the beating heart of the community and an energising force for good in the town. It's what a football club should be and the associated feel good factor is something that Blackpool could well do with. The future is tangerine.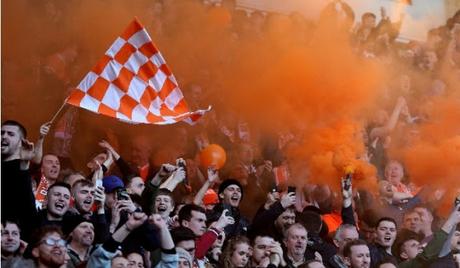 Here's something that I've been working on intermittently over four years. As with a few poems I've posted recently, it's still a work-in-progress (there is just too much else going on), but this week-end feels like the appropriate time to try and pull it together (warts and all) and put it out there...
Jewel Of The North
This is the town,
up on the gold coast
renowned through the land
for fun in the sun.
More brassy than classy
and bracingly breezy,
it boasts six miles of sand,
a tower like Paris,
three piers to the sea,
wears its heart on its sleeve
and will welcome you in
to its mad happy family
wherever you come from,
whoever you be.
Get in behind the rusty old cliché
of hen and stag parties
who come pouring in
from January to December
in search of a week-end
they'll never remember
and you'll find a richer truth.
Its easy streets are never so easy,
though its mean streets
are not really mean
and it wears its proud claim
be the happiest of places
much like the painted face of a clown.
For all of the dancers, prancers,
one night chancers,
boardwalk quickies and holiday romancers,
bawdy comics with earthy gags,
rock stalls, chippies, bingo shacks
and shops selling laughter
and unicorn poo
there are solid northern souls
in the barrios, those red-brick terraces
behind the hotels and the B&Bs
and their life is hard.
They live for the team
that plays in tangerine.
It's the zest in their days
and their dreaming at night,
of Matthews and Mortensen,
Armfield and Suddick
or Adam and Ormerod,
heroes all but still ordinary men
whose skill with a ball on a Saturday
lifts other ordinary folks
when they're down.
Supporting the team
is a tradition and a tie
that binds pals, families,
whole generations
and to see them flow
like a tide once again
up to Bloomfield Road
decked in beanies and scarves
thrills me and fills me with pride
for their mighty tangerine passion.
This is Blackpool, jewel of the north.
Here's an aural bonus for those who couldn't be there today and those who were but want to relive the magic. Just click on the song title: 
Woke up this morning feeling fine...
*For anyone who was mystified by the blog's title, I should explain that Blackpool fans are very particular about the shade of our club's colours. When non-Seasiders make reference to our 'orange' kit, we have to advise them that it's
not
orange, it's tangerine. (Don't forget.)
Thanks for reading, S ;-)
Email This
BlogThis!
Share to Twitter
Share to Facebook
Reactions: