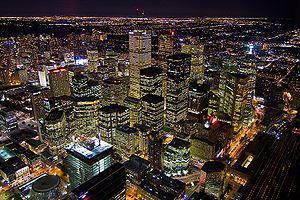 So what is Toronto becoming?
What is happening to Toronto? It's simple, Toronto is broke! Year's ago we talked about the hollowing out of Toronto, forcing families to move to the suburbs, such as Mississauga, Brampton, Markham, Pickering, Ajax, Whitby, Oshawa and farther. I am not saying that this is the reason. The majority of jobs are still in Toronto, however what will Toronto look like in 20 years? Yesterday Rob Ford said "he is all business", and he will entertain any business idea. I am not sure if Torontonians would have supported Ford Nation if they knew what the vision was for Toronto. This is definitely not in the same scope of David Miller. As a mayor he seemed to have a different vision for the city. The question is what happened to the debate over these ideas? I am starting to hear rumblings of dissatisfied voters in Scarborough and other parts of the city. Sure, I am not taking stock from a large base, but these are individuals who were stark supporters of Rob Ford coming in to clean house.
Toronto Residents: This city is headed for a disaster of biblical proportions. 
Mayor: What do you mean, "biblical"? 
Toronto Residents: Fire and brimstone coming down from the skies over Toronto! The Don river and Lake Ontario boiling! Forty years of darkness! Earthquakes, volcanoes…Mel Lastman rising back to power! Human cooperation, politicians actually working together… mass hysteria!
So will Toronto become the new promised land?
Related articles
So who really runs the city of Toronto? (thegtapatriot.wordpress.com)
Game over for Rob Ford in Toronto? (thegtapatriot.com)
Rob Ford non-commital on Pride (thestar.com)
MGM eyes Toronto for sprawling integrated resort and casino (theglobeandmail.com)
Woodbine location favoured for Toronto 'entertainment destination' (theglobeandmail.com)