TAKEAWAY: From the kitchen to the cockpit and in the hands of TV anchormen: it is the iPad, this incredible tablet that is making us re-evaluate a lot of what we do and how we do it—-including reading the news, of course.
The incredibly present iPad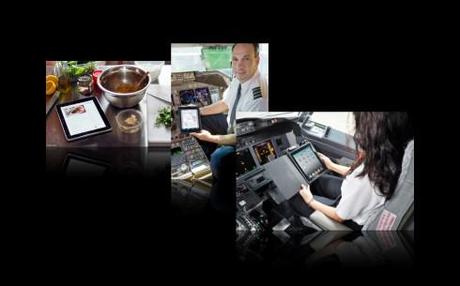 From the kitchen counter to the cockpit: United and Alaska Airlines (above) among those introducing iPads in the cockpits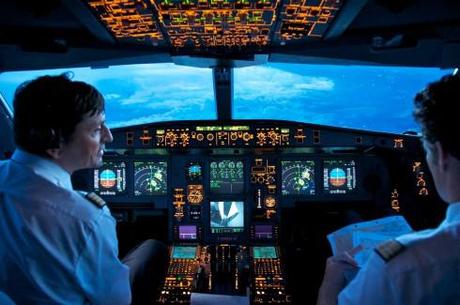 My friend, Thomas Rivet, a Lufthansa A340 captain (left), never enters the cockpit without his iPad.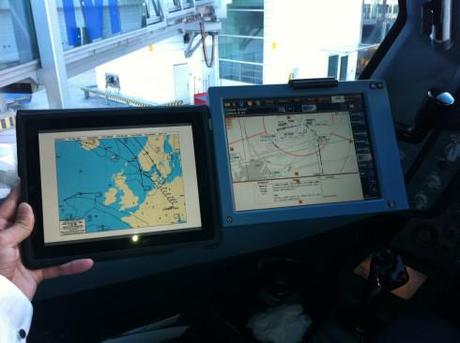 Here Captain Rivet shows the difference between the iPad (left) and Lufthansa's "

EFB

" electronic flight bag. And the Captain, who is a big time iPad fan adds:


"

The

EFB

touchscreen drives you crazy, when you are used to the iPad."

It's raining iPads, no matter where you look.
Earlier this week we talked about the presence of the iPad in the kitchen, and mentioned a variety of apps that are delivering very special recipes, along with fun ways of cooking. It is a hard to beat formula: Hear the recipe instructions while you cook, see the video of how to cut those onions, and see how the finished dish should look!
Now we read, also in The New York Times, that iPads are making their way into businesses, and, something I already knew thru observation, the cockpit of that jet you are flying to your next destination.  Repeatedly, as I board flights globally, I take a peek into the cockpit and see the pilots checking their iPads for pre-flight information—-unless they are reading their newspaper, or playing a game, which I am sure they also do during those long haul flights.
As you see in the illustrations above, pilots who like iPads use them regularly, as does my friend Lufthansa Captain Thomas Rivet.  LIke many other pilots that I have talked to, Captain Rivet hopes that the iPad will one day soon become the official cockpit navigator for his airline.
Apple in the business place
The Times piece tells us that, although Steve Jobs was not too keen on serving the business types (he was more interested in consumers like you and me), he would be very (happily?) surprised to see that business has embraced the Apple brand, especially with the iPad and the iPhone.
As a person involved in the creation of news apps, and, as my main interest is in how we can make more people read more news and features from their favorite newspapers and magazines in their iPad, this is all music to my ears.
If, as we are beginning to see, the tablet is a presence when people cook, or when they go about their daily business in the office, then it is only natural that they would use it from time to time to "snack" on the offerings that newspapers and magazines produce.  And, although all the research available to us today points to the fact that the iPad is more of an evening-use platform, it is early to tell, and this is a platform in its infancy.  We may begin to see patterns of tablet use during different hours of the day.  For example, if I am using my iPad to prepare my favorite dish, which may require waiting times here and there, then I know I would turn to my favorite news apps to read stories while the food cooks.
Essentially, the more iPads that are in more hands, and the more uses that people find for their iPads, the greater possibility that this exposure will lead to greater consumption of news presented in the iPad.
Of special interest today:
- USA: Atlanta Journal-Constitution Adds iPad 'Digital Combo'; Site Still Free
http://paidcontent.org/article/419-atlanta-journal-constitution-adds-ipad-digital-combo-site-still-free/
First paragraph: Some newspapers have added paywalls to their websites while their apps remain free, but the Atlanta Journal-Constitution is trying the opposite: It's charging for access to a "digital combo," its iPad app and digital replica edition, while access to ajc.com is still free.

- USA: Amazon Decides To Ship Kindle Fire And Kindle Touch Early
http://paidcontent.org/article/419-amazon-decides-to-ship-kindle-fire-and-kindle-touch-early/
First paragraph: In a move that surely has nothing to do with the impending launch of the Nook Tablet, Amazon (NSDQ: AMZN) is shipping the Kindle Fire today and the Kindle Touch and Kindle Touch 3G tomorrow.The Kindle Fire was originally supposed to ship tomorrow, and the Kindle Touch was supposed to ship on November 21.

- USA: Mediaspace Launches New 'Tablet Network'
http://www.mediapost.com/publications/article/162252/mediaspace-enters-new-space-launches-tablet-netw.html
First paragraph: With magazines and newspapers racing to introduce apps for tablet computers and e-readers, it was only a matter of time before someone started aggregating them to help advertisers achieve greater scale and reach. That's what Mediaspace Solutions is doing with its new Tablet Network, which aggregates 161 newspaper and magazine tablet apps.

-USA: Mining Social Media Engagement To The Max
http://www.netnewscheck.com/article/2011/11/13/15255/mining-social-media-engagement-to-the-max
Highlight: USC's Robert Hernandez has emerged as a social media guru, advising journalists and media companies on how to mine and manage this increasingly important audience engagement tool. Companies that ignore Facebook, Twitter, Google Plus and other social media outlets face a dim future, he tells NetNewsCheck Editor Michael Depp in this interview.

- What Steve Jobs Would Do If He Ran A Paper
http://meltaylormedia.com/2011/11/if-steve-jobs-ran-your-newspaper/
Highlight: As I finished the best-selling biography of Steve Jobs by Walter Isaacson, I wondered what would happen if Jobs, with his highly combustible yet potent management style had decided to become the publisher of a Newspaper, instead of being the king of Silicon Valley. It's this kind of hardcore leadership, combined with brutal austerity measures that Newspapers (and Broadcasters) would certainly benefit from today. Introducing someone like this into your operation wouldn't be easy. But as they say – if you want a great omelet, you have to break a few eggs.


TheMarioBlog post #892