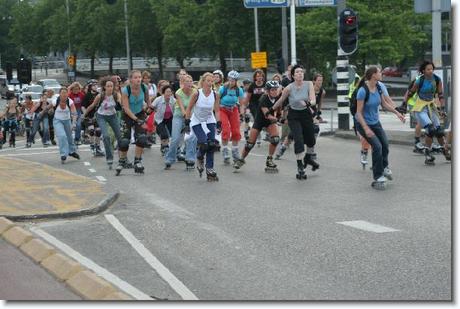 It's Friday night and you're in Amsterdam. Sure you can go to a concert, catch a play, go bouncing through the clubs, get your kicks at a coffeeshop. But those are all so done and overrated.
Why not strap your skates on instead and head out to Friday Night Skate?
The event happens each Friday, year-round (assuming the pavement is dry), with a new route through Amsterdam each week.
Hundreds of skaters participate - a great turn out for an event that started out as an evening activity for Dutchies Yuri, Alice, and Chris and their friends. They started the Friday night group skates in 1997 and it has grown into a much loved event.
In 1998, Stichting Skate! (The Skate Foundation) was set up to ensure the safety and quality of the event. It now represents the interests of all of Amsterdam's skaters as well as organizing several annual inline skating events.
To join in, all you have to do is meet up with your fellow skaters at het ronde bankje (the round bench) next to the Film Museum in Vondelpark. Skaters start gathering at 8pm (8:15 during the winter months) with a departure time of 8:30.
Friday Skate Night is absolutely free. Just be sure to bring a drink and suit up in head, wrist, knee, and elbow protection gear.
Since you'll be skating for a total of two hours and with a large group, this is not an event for beginning skaters. It's required that you are able to keep up and break well.
While numerous measures are taken to ensure the safety of all Friday Night Skate participants, it should be noted that you skate at your own risk and Friday Night Skate will not be held responsible for any injury that occurs.
Check out www.fridaynightskate.com for more information.
© 2013, Amsterdam City Tours Blog. All rights reserved. On republishing any part of this post, you must provide a link back to this original post