Upon the completion of August our artisan camp here in Tameslouht, I received an email from our friends at Dar America, home of the U.S. Consulate General's Public Affairs Section. As a follow-up to the camp, they asked, would you all be interested in participating in a workshop led by Juman Doleh-Alomary, President of the Arab-American Women's Business Council? A workshop at Dar America proper in Casablanca and a panel discussion in Marrakech were already on the agenda, with a possible stop in Tameslouht, if we were interested. They sent the inquiry along with this synopsis of Ms. Doleh-Alomary's credentials:
Juman Doleh-Alomary, who is Jordanian-American, is President of the Arab American Women's Business Council (AAWBC), the premier support, networking and educational organization for Arab American women business owners to grow their businesses and to advance in their careers.  It strives to bring together Arab American women of diverse industries for the purpose of building business and professional growth through networking, leadership and educational opportunities.  She is also an IT Audit Director at Wayne State University in Detroit, Michigan.  She has gained technical knowledge in various areas such as business analysis, budgeting and operative planning.  She has a Bachelors in Applied Mathematics from the University of Michigan and a Masters of Science in Computer Engineering from the University of Michigan.  She is fluent in Arabic.
The inner Peace Corps volunteer started dancing around the room, while my calm, cool exterior PCV (which I think only exists in my imagination) replied with a resounding YES.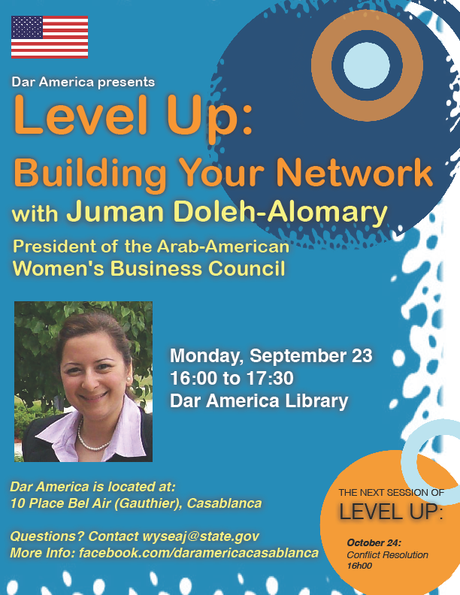 Our artisans took the lead recruiting local association leaders and business-minded individuals to attend. We ended up with a total of 13 participants (1 person over the agreed-upon limit of 12, but who's counting): the executive board of Creation Tameslouht (Zineb, Fatima, Zahara, and Fouzia), the director of the local women's training center (Selma), 2 women artisans from neighboring Ait Ourir, 2 independent women artisans from Tameslouht, a local cafe owner, a weaver (Ridouan), an artisan from Marrakech with her own business (Bouchra), and the vice president of the association for Tameslouht leaders (Moulay Masaoud).
In addition to this cohort, the lovely and talented Carrie, PCV & unending wealth of small business knowledge, joined me for moral support. Carrie was a yoga teacher and all around spectacular camp assistant last month, and she selflessly volunteered her time to help out with this event. I had to apologize (like at the camp) for a lack of actual things available for her to do– as per usual, the artisans seemed to have pretty much everything under control. We ended up taking lots of pictures and, well, sitting and observing. What a problem to have!
When Ms. Doleh-Alomary and her Dar America entourage arrived– shout-out to Kaoutar (Media Specialist), Angela (Public Affairs Officer), Erica (Economics Officer), and Khalil (Chauffeur)– they asked if it was possible to first see our ancient zaouia, or religious school. It's probably our biggest/ only claim to fame here in Tameslout– because, get ready…Prince of Persia was filmed here. I've probably mentioned it before, but it sounds cooler every time.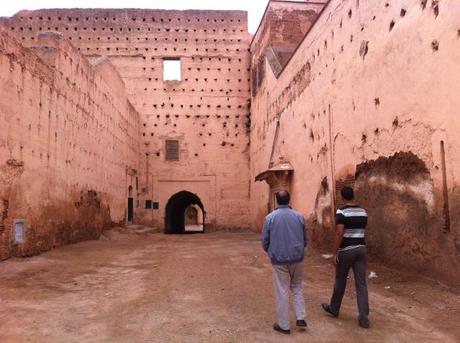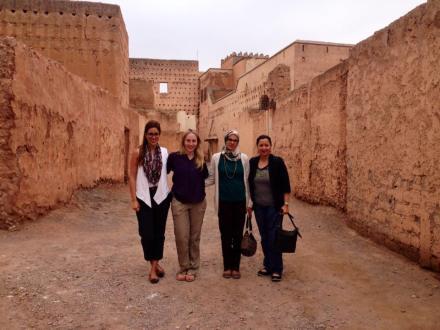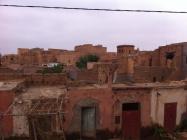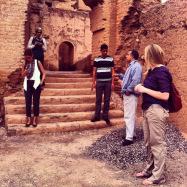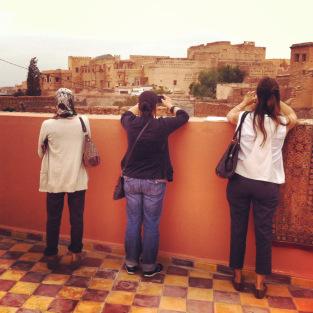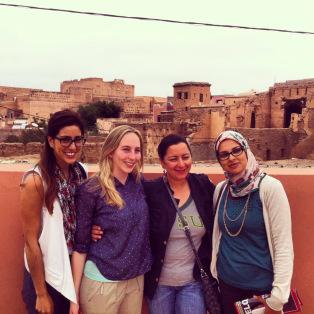 Post-zaouia, we convened for lunch. A steaming, massive plate of delicious vegetable and meat couscous, capable of feeding several small villages, was presented to us. We ate more than our fill, washed it down with lbn (drinkable sour cream, essentially), and contently observed our bodies' diameters increasing. Then…more plates were put out. Small salads, first…three different kinds. And bread. Followed by…an entire plate of wedding chicken?! At least an additional three small villages worth of food. We had no idea the couscous we shoveled into our mouths was simply the amuse-bouche. An attempt to rally the troops proved futile; there was literally no. more. room. for another morsel. To avoid being entirely rude, we made some weak attempts at suggesting the chicken be put aside for dinner, but I think all of us knew in our stomach of stomachs that we would probably be full for the next 3 days.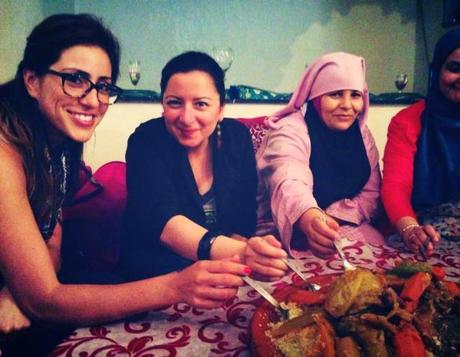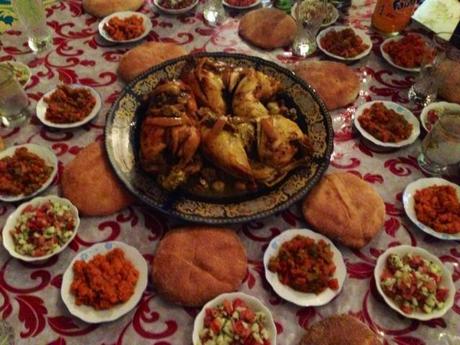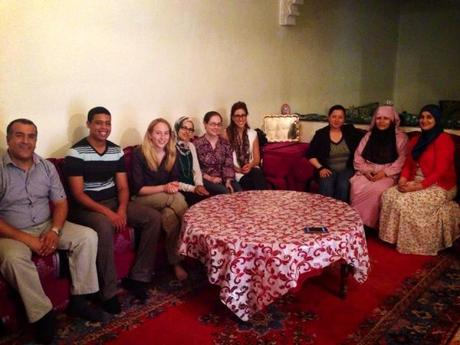 After lunch, we waddled to the cafe where we had our camp about a month ago. Instead of being filled with kids' drawings, "stars of the day", and piles of unfinished baskets, the atmosphere was business-casual; the tables and chairs were arranged in a classroom-like setting, decorated with a minimalist scheme of individual water bottles, black pens, and white paper. It looked so official!
Ms. Doleh-Alomary, Kaoutar, and Erica sat in the front. Erica was writing an extensive report on the event, its participants, and Tameslouht as a whole, so she had Kaoutar translating the happenings in English. This was a helpful dose of subtitles for me and Carrie, as Ms. Doleh-Alomary speaks Jordanian Arabic rather than our beloved Moroccan dialect. The participants, of course, had no trouble understanding her, but our green American ears needed a little assistance.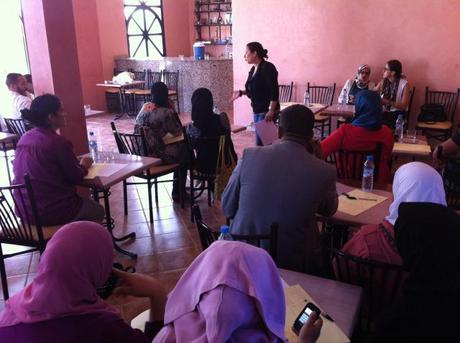 First, introductions were had. Every participant got a chance to present themselves, their business, and their goals. After nailing down people's experiences and current standings within their business, Ms. Doleh-Alomary asked everyone to do some basic budgeting. Dividing a paper in half, each participant was asked to write down their main expenditures. When completed, they selected items that could be reduced or limited for a period of profit growth.
This was a great exercise because most of the local business owners and artisans don't keep an actual budget (no judgement, I don't either). They were able to have a visual in front of them enumerating how much they are actually spending and what things could be sacrificed to expand their businesses. Ultimately, these papers facilitated a long-term approach to thinking about money. I probably should have participated in this, come to think of it.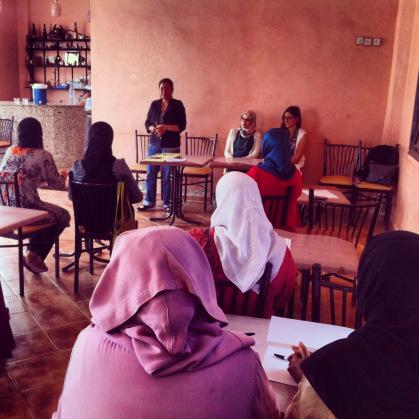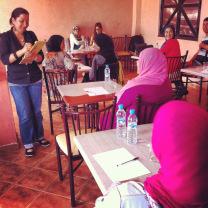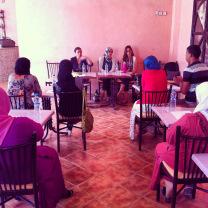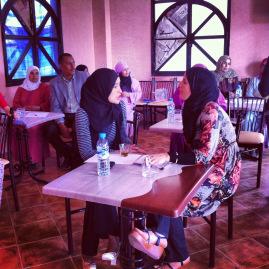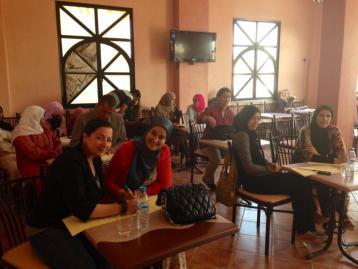 After roughly 1.5 hours of workshoppin', we had a break for tea & sweets. The couscous was still weighing us down, but we fought through the pain.
I enjoyed the break in particular because it gave all of the participants a chance to connect informally. Most people already know each other casually, in a say-hi-in-the-streets type of way. In this setting, however, people were getting to know each other in a networking capacity. One of the women from Ait Ourir made a point to gather everyone's contact information and hand out her own card, as she didn't want the workshop to be a single afternoon of productivity and community-building without any type of sustained follow-up. We are planning to visit her cooperative this Sunday, inchallah, and continue picking each other's brains on how to increase the capacities of women artisans in the El Haouz province.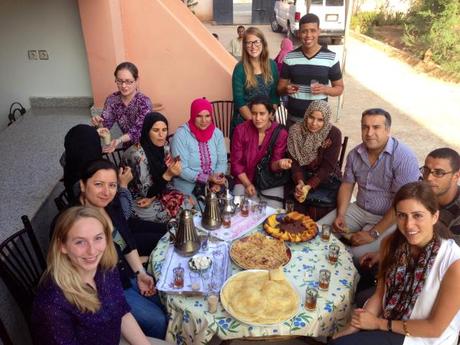 Photo credit: Erica!
Post-misimin, baghrir, cake, and coffee, we returned for another 1.5 hours of marketing strategies and product innovation techniques. Ms. Doleh-Alomary discussed a wide range of opportunities and possibilities for marketing. The last activity involved writing about a product with a specific use and then brainstorming alternate possibilities for said product. This was meant to encourage creative thinking in terms of product development while also keeping in mind the needs of the consumers.
It was the first time Ms. Doleh-Alomary presented this particular lecture in Arabic, and we think she did a fantastic job. Her knowledge, experience, energy, enthusiasm, and humor contributed to a fantastic learning environment. All of the workshop participants had very positive feedback regarding the content of the workshop and were extremely appreciative of the opportunity to work and learn with her. We ended with a group picture and a lot of excitement for what's in store for these talented entrepreneurs.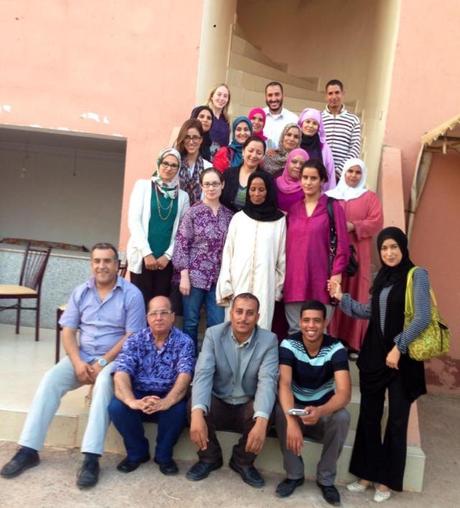 Photo credit: Erica!
The last stop for Ms. Doleh-Alomary and the Dar America crew? Shopping! They expressed interest in seeing some of the artisans' work in person, so we stopped by Ridouan's hanut, or store, first. He has a breathtaking collection of blankets, scarves, and other woven fabrics that would make the most hardened of consumers swoon. You can check out more of his products here, on our new Facebook page for all of the artisans of Tameslouht.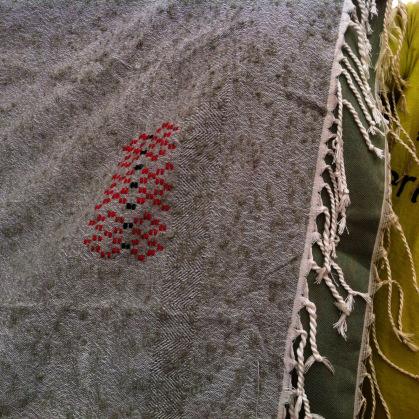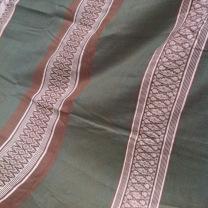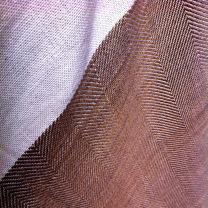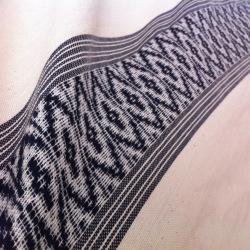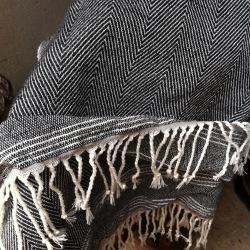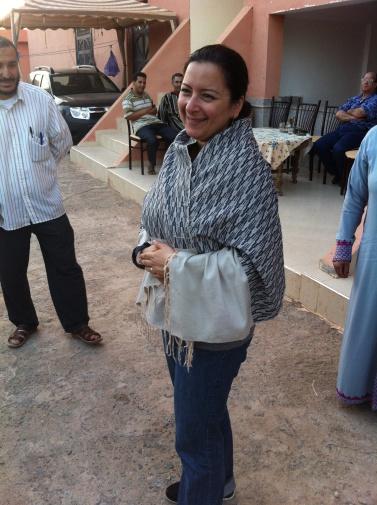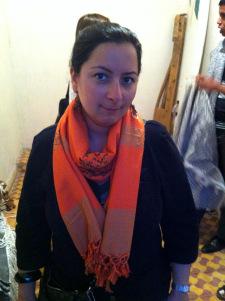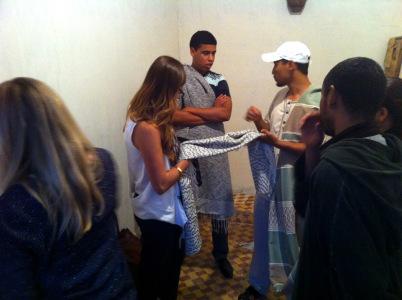 Last stop of the evening was Zineb's house. The Dar America team got to finally see the women's exquisite work outside of Facebook posts and even buy a few things. Ms. Doleh-Alomary handed out gifts from the motherland– chocolate!– and said her goodbyes. Having her, Angela, Erica, and Kaoutar with us for the day was awesome. A huge thank you to Dar America for hooking us up with Ms. Doleh-Alomary, and congratulations to the women of Creation Tameslouht for hosting a spectacular workshop. We're looking forward to watching the small businesses of Tameslouht flourish.