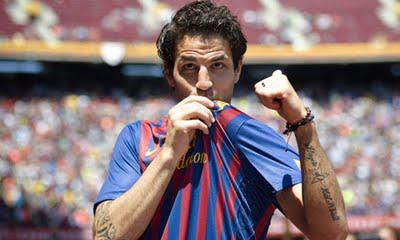 I was aware that this day would be coming for awhile now.It has been one of the worst kept secret in the world that Cesc Fabregas' move to Barcelona was imminent.Even with that, I couldn't help but be a little saddened by seeing pictures of Cesc kissing that Barca badge this morning.Cesc wasn't necessarily my favorite player on Arsenal or the major reason that I became a fan of Arsenal.The reason that I am saddened is because we wasted the talent of one of the best midfielders in the world.Cesc's numbers when compared to any of his contemporaries are outstanding.At just 24 years of age Cesc has over 300 appearances, almost 60 goals and more assists than any player in Europe's top leagues.With all of that said Arsenal still found themselves without silverware throughout Fab's tenure at the club.
It is obvious to see why Cesc wanted to leave Arsenal.Barcelona, his boyhood club is the greatest team of this generation.No one has proved (especially last season) that they can even touch them.He has many close friends at the club and his childhood hero Pep Guardiola is the coach.Why would he want to stay at Arsenal who haven't won anything since 2005 and whose fans are turning on the one person in Arsene Wenger who turned the club into a powerhouse in the first place?The way that Barcelona went about their business over the last few years has made Arsenal look silly on and off the field.The two consecutive defeats at the hands of Barcelona in the Champions League as well as the incessant chatter from the Barcelona players in regard to Cesc were really hard to swallow.Puyol and Pique going around taking down pictures of Cesc around the Arsenal facility is just one example of the disrespect that Barcelona have showed throughout this whole saga.And now Barcelona is taking Cesc away for a measly 12.7 million pounds up front and then another 12.7 million in October two days after the season started is another slap in the face.
Throughout all of this I somewhat feel bad for Cesc.I think it is safe to say that Fabregas would not be the player he is today without Arsenal and Arsene Wenger.Now with 8 years away from the Catalans, and with his premature departure at Arsenal, he most likely won't be a legend at either club.Cesc was well on his way to becoming a player that Arsenal fans will think of as a legend.Players of recent vintage like Dennis Bergkamp, Patrick Vieira, Thierry Henry and of course captain Tony Adams.If Cesc was able to drag Arsenal to silverware he would mentioned in the same breath with those greats.Now he will be looked at as a great player who won nothing as captain and left Arsenal high and dry.Cesc already has a lot of miles on his legs already and hamstring issues have reoccurred over the last few years.I will be interested to see how many years Cesc will be able to play at his best before the decline begins.Life will go on at Arsenal just like it has after all of the other great players left the club.I will continue my support of the club through this tumultuous time and hope that they focus for the Champions League qualifier against Udinese today.I will be at work in my Sagna shirt supporting my Gunners like I always have and always will.So long Cesc and thanks for the great memories.