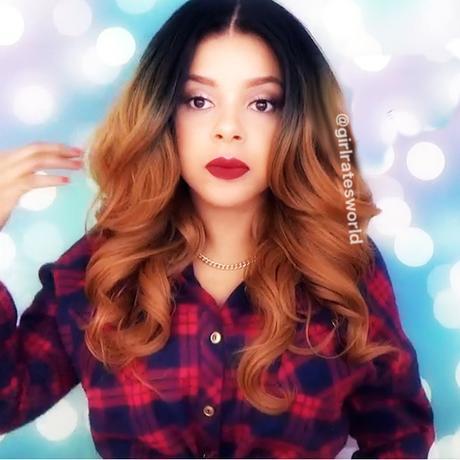 This is It's A Wig Germana Wig. Simply gorgeous. Lots of loose curls with 4×4 free parting space. It's a great alternative to Sensationnel Perm Romance wig which is longer. This is a really well-done unit with a vivacious style. I'd say it's perfect for any occasion and easy to manage. Even though I would call it a 'glam style', it's not a hassle to wear.
You can buy Germana for about $37 at online beauty supply stores or amazon beauty. Be sure to check out the full video review posted below. It has more details and views of the style from many angles.
IT'S A WIG GERMANA WIG REVIEW

WIG SPECS:
BRAND:
It's A Wig
NAME:
Synthetic Hair Lace Front Wig 4X4 Swiss Lace GERMANA
COLOR SHOWN HERE:
TT27
DARKENED ROOTS :
Yes; crown and hairline
HEAT SAFE:
Yes – Up to 400ºF / Heat resistant fiber
MATERIAL:
Synthetic – Heat resistant fiber
TYPE:
Lace Front Wig
LACE:
Swiss
EAR-TO-EAR LACE:
Yes
LENGTH:
Layered 18 – 20 inches
PARTING:
5-inch Lace Part
ADJUSTABLE PARTING POSITION:
Yes – center, left or right
WIG CAP:
Comfortable size with 2 combs at front and 1 in back; adjustable straps.
RATING:
5 stars by GirlRatesWorld
TIPS FOR STYLING:
– add a little hair serum to ends to help minimize tangling
– add got 2b glue or gorilla snot gel to lace parting so it lays flat and holds in place
– store unit in wig bag or on a wig stand to keep tangle free
– apply a quick setting hairspray like Instant Freeze to lock style in place

I'M SOCIAL!
I hope you found this review on It's A Wig Germana Wig helpful. I have dozens of wig reviews posted on this site. Stay up-to-date by following @GirlRatesWorld on all your social media sites. YouTube | Pinterest | Instagram | Facebook.
Related Post
Sensationnel Instant Fashion Wig Vivian
Wig Giveaway #3: Freetress Equal Eternity Wig in 1...
Zury Sis Pre-Tweezed Synthetic Lace Wig SW-LACE H ...
Yikes! Model Model Synthetic Lace Front Wig Echo

About GirlRatesWorld
Beauty and style lover with an addiction to wigs, pups, french toast and neon polish. Hundreds of reviews under my belt with new ones added weekly. Be sure to swing by often ♥︎.