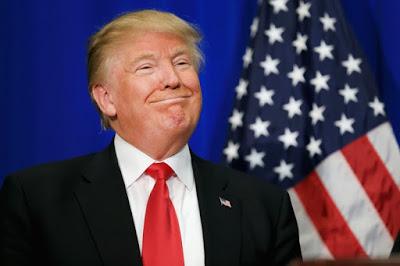 This broke two days ago.
A bit from the article:
President Trump's approval rating has slipped to 38 percent, a new national poll finds.
The Quinnipiac University survey released on Wednesday says that only 38 percent of Americans approve of Trump's job performance, while 55 percent disapprove.
According to Quinnipiac, the 17-point difference in Trump's approval rating is the worst he's fared in a poll since taking office in January.
An earlier survey from the pollster this month registered Trump with 42 percent approval and 51 percent disapproval.
"President Trump's popularity is sinking like a rock," Tim Malloy, the assistant director of the poll, said in a statement announcing the findings.
"He gets slammed on honesty, empathy, level-headedness and the ability to unite. And two of his strong points, leadership and intelligence, are sinking to new lows. This is a terrible survey one month in."
Again, this is unprecedented, making for an unprecedented presidency. 
We are right at 5 weeks into this administration and when this man and his people should be, traditionally, historically, enjoying high approval ratings, the first 100 days, this guy is, instead, at historic lows.
Does that tell you much, Republicans? Americans?
And wait. It gets better, too.
Americans Trust Media More Than 

Trump
BWAHAHAHAHAHA
God, I love it.
What isn't to hate of this man and his administration--or fear, for our nation--is to love.
Think happy, positive thoughts, campers.