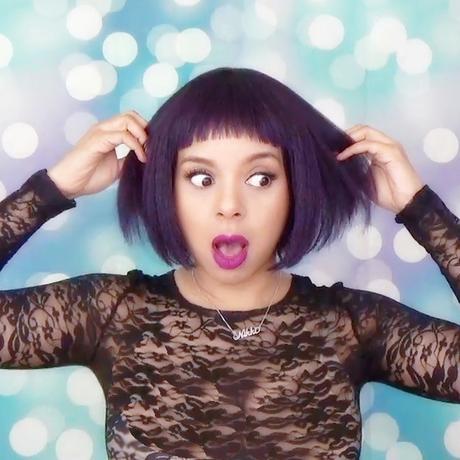 Yikes, guys! Isis Riri Bob Wig is not what I expected. I wanted to like this unit because it's a celebrity inspired style. But it went way wrong…real fast. The bangs are sparse and unflattering. Especially when compared to the full bang shown on the wig's stock card. It's also a smaller cap. Yeah, so if you're a full-figured head like myself… Just skip this altogether! I would NOT recommend the RiRi Bob by Isis Red Carpet. Although it didn't tangle or shed, it still took an "L" instead of a win. The hair texture is on the thicker side. But it doesn't matter because it's still 'wiggy.' I totally prefer It's A Wig Delia which is similar – but BETTER.
OTHER SYNTHETIC WIG REVIEWS
[adcode]
WIG SPECS:
BRAND:
Isis Red Carpet
NAME:
RCP184 Riri Bob Wig
COLOR SHOWN HERE:
PURPLEBLACK
MATERIAL:
Synthetic – Heat resistant fiber
TYPE:
Full Wig
LENGTH:
6 – 8 inches
PARTING:
None
HEAT SAFE:
Yes – Up to 400ºF / Heat resistant fiber
WIG CAP:
Small size with NO combs; adjustable straps.
RATING:
2 stars by GirlRatesWorld
[adcode2]
TIPS FOR STYLING:
– keep all heating tools below 400 degrees when styling
– use bobby pins or wig grips to keep in place all day
– apply hairspray (lightly) to lock style in place
– add some dry shampoo to boost volume – I use Oscar Blandi dry shampoo
BE SOCIAL WITH ME!
I have tons of hair reviews lined up and ready to go! I don't want you to miss them. so be sure to follow @GirlRatesWorld on your social media sites. Also take a moment to check out dozens of other wig and hair reviews here. Is there a wig you want me to review? Awesome! Let me know in the comments below. Thanks for showing your support. I really appreciate it ♥︎.
YouTube | Pinterest | Instagram | Facebook
You May Like
Liberty Wig by Freetress Equal – Celebrity I...
Freetress Equal Lace Front Wig – Petal Bloss...
Swiss Lace & Human Hair Blend – Isis Br...
Model Model Jina Wig Review

About GirlRatesWorld
Beauty and style lover with an addiction to wigs, puppies, french toast and neon polish. Hundreds of reviews under my belt and new ones added weekly. Be sure to swing by often.