Or, have you avoided purchasing a laser altogether? Whatever your reservations may be, using diode lasers have the power to help you provide better treatment for your patients.
What if you had the ability to access clinical, technical, and customer support for your laser system at the touch of a button? The CAO group has paired a new concept in dental technology with a proven one, bringing together its solidly performing Precise® SHP Diode Laser System with the Apple® iPod Touch. The iPod Touch allows easy access to support resources with videos on training and procedure demonstrations and the system can be easily upgraded.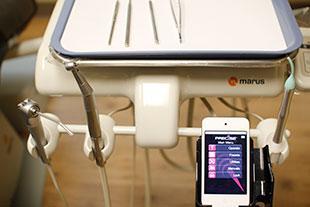 Just imagine being able to operate the laser from the iPod and watch a video or access other support while doing the procedure!
In the article by Michael Koceja, DDS, called, Precise SHP Diode Laser and iPod Touch Pair to Make Care More Effective, Dr. Koceja gives many examples and applications for the laser such as recontouring soft tissue; soft tissue crown lengthening; troughing prior to crown and bridge impressions; and all of the "ectomies" including frenectomy, gingivectomy, etc. Read the full article and see why Dr. Koceja is such an advocate for this dynamic dental technology combination.