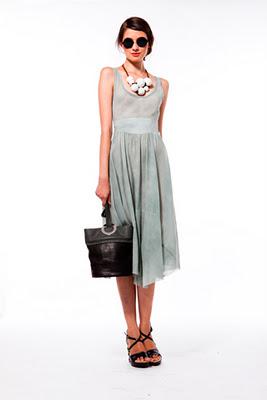 (Vena Cava Spring/Summer 2012, Courtesy of Style.Com)
In September one of my favorite labels, Vena Cava, held a small, private dinner to show Spring 2012. With the economy still struggling to come back many smaller designers are significantly cutting back so Vena Cava's scaled down presentation didn't seem that worrying.
But last week
Fashionista
reported that designers Sophie and Lisa had given up the lease on VC's studio and WWD said that talks with new investors had broken down. Since then Barney's no longer has Vena Cava listed on their website and Bergdorf's has only a small selection left almost all of it is on sale. Not a huge boost of confidence from two of their biggest retailers.
One of my first real designer pieces was a silk Vena Cava dress. Like many of their pieces, it worked from day to night, and was subversive enough to be stylish but not alienating. I wore it constantly, from a Valentine's date to a summer brunch to after work bar hopping. After two years, I dropped a few dress sizes but had a hard time letting that dress go so it had a place of honor in my closet for months. I regret selling it now (although it did help go towards another fashionable purchase) because maybe it would be something a daughter or granddaughter would want someday. Hopefully, I'll have many more chances to buy some more of their amazing pieces and this time, I swear I'll hold onto them!