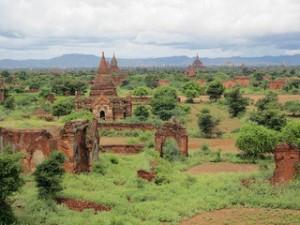 It seems like all the cool kids – even President Obama – are heading to Myanmar these days. Which raises the question – is this a vacation spot you should consider?
Other travelers already are – an estimated half a million tourists will visit Myanmar in 2012. Most of them are looking to beat the anticipated rush of tourism that will surely come, now that the former Burma has ended two decades of repressive military rule, released political prisoners and opened up its borders.
Visitors say you can see the rapid pace of commercialization and development in the capital city of Yangon. There are plans to dramatically upgrade Yangon International Airport to accommodate the anticipated influx of tourists. And the country is investing in its tourism agency in order to attract visitors.
While Myanmar is trying to catch up to modern society, the attraction of the country for many is that a visit there is like stepping back in time. In Bagan, you can look out over 4000 sacred Burmese stupas. Or you can take a ride in a horse cart past English colonial mansions. Or visit a pristine, undeveloped beach on the Bay of Bengal.
In many ways it's spectacular, but there are challenges. If you want to get in on the early wave of Myanmar tourism, here are some things to consider:
Weather – It's hot. The temperature in Spring can get up around 105 degrees Fahrenheit during the day. The best time to go is now – between November and February the temperature is generally more moderate. The rainy season runs from approximately May to October, drenching most of the country to the point where some roads become impassable.
Healthcare – The healthcare system is behind where you'd want it to be. As Reuters reported in the Spring of 2012, Myanmar is still trying to remedy its historic lack of infrastructure and trained doctors. For general information about their healthcare services and environmental risks, visit GeoBlue's Health Atlas.
Communications – Your mobile phone is not going to work as well in Myanmar as it does at home. Myanmar's telecommunications network is way behind what you're probably used to. And don't expect high speed Internet, either.
Money – Cash flow while traveling in Myanmar can be an issue. There are some ATMs in the cities, but you have to have a Myanmar bank account to get cash from them. So that's out. And, since you're from outside the country, businesses won't accept your credit cards. That means you have to carry cash – and the expectation is that it will be in pristine condition, with no marks or tears. Also, "new" dollars are preferred over older bills.
A trip to Myanmar is like a trip back in time, and that can be both good and bad. Travelers need to weigh the on-the-ground reality and decide whether Myanmar is the right spot for them to visit.
Photo by eGuide Travel.