. . . or the undead Lanza himself?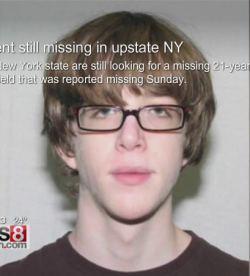 That notion isn't so far-fetched given the fact that:
The American public, to this day, have not been shown the death certificates of Lanza or his 27 victims, although like birth and marriage certificates, death certificates are considered to be public records. After Newtown clerk Debbie Aurelia refused to issue Sandy Hook victims' death certificates, despite repeated FOIA requests by the AP and other media, the Connecticut State legislature actually passed a new law (HB 5733 – An Act Concerning Access to a Child's Death Certificate) to restrict the public's access to birth certificates "when the disclosure of the death certificate is likely to cause undue hardship for the family of the child.''
Genealogy websites had Adam Lanza's Social Security Death Index as December 13, 2012 — a day BEFORE the alleged massacre. Only when the date was discovered by FOTM and other bloggers did the genealogy websites change his date-of-death Dec. 14, 2012.
Jesse Gosselin reports for WTNH that search teams in New York state are looking for Max Maisel, a 21-year-old student from Fairfield, Connecticut, Max Maisel, who was reported missing Sunday, Feb. 22, 2015. Maisel is attending the Rochester Institute of Technology.
According to the R.I.T. University News, Maisel was last seen Sunday leaving the Perkins Green Apartment Complex on campus. His car was located Monday near a pier on the Genesee River, where officials said Maisel and his family spent summers for several years.
"We don't know where Max is and that's hard to deal with," Max's father, Ivan Masiel, said in a press conference at R.I.T. on Thursday afternoon. "We love you and we miss you," said his mother, Meg Murray. Max's parents are pleading with the public to come forward with any information that could help them locate their son.
To compare, here's a pic of Max Masiel (r) next to one of a teenage Adam Lanza (l). Note that the American public were never shown a pic of the adult Lanza. Lanza was 20 years old when on the morning of December 12, 2012, he allegedly first shot dead his mother, Nancy, at home, then drove to the Sandy Hook Elementary School where, in less than 5 minutes, he shot dead 20 children and 6 adults.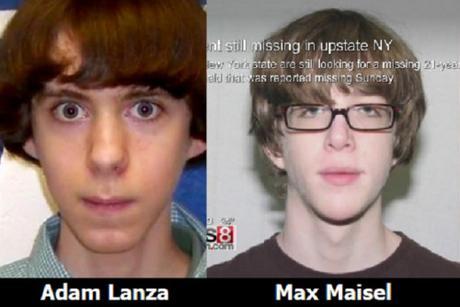 To me, the eyes, lips, and chins of Lanza and Masiel are different: Masiel has fuller lips, different-shaped eyes that slant down at their outer edges, and no horizontal indentation in his chin. But, from what I can see of the two men's ears, they seem to be the same.
What do you think?
Meanwhile, just as Sandy Hook Elementary School was razed to the ground and the demolition workers sworn to confidentiality, allegedly because of asbestos contamination, Adam Lanza's home will also be torn down.
On January 21, 2015, the Newtown Legislative Council approved a proposal by the board of selectmen to raze the 3,100-square-foot home on Yogananda Street and keep the land as open space. First Selectwoman Pat Llodra (Newtown doesn't have a mayor) said she expects the Lanza house will be razed once winter is over. The 2-acre property was given to the town in December by a bank that acquired it from Ryan Lanza, Adam's older brother.
It should be noted that the homes of Elin Patricia Llodra and Newtown's other two selectmen, William Rodgers and James Gaston Sr., all share a sale date of 12/25/2009 and sale price of $0. (See "The strange purchase date and price of Sandy Hook homes")
H/t FOTM silent reader Ann
See also:
Sandy Hook: ABC Nightly News had Adam Lanza among its "cast" 2 days before massacre
Are Sandy Hook children killed a year ago still alive?
Sandy Hook: How did Lanza kill himself?
No one died in Sandy Hook: Testimony from Social Security Death Master File
Former Connecticut State employee blows whistle on Sandy Hook
Former CIA spy: Sandy Hook and Boston Bombing were false flags
Dead again: Sandy Hook child victim Noah Pozner also killed in Pakistan Taliban shooting!
BBC admits but will not investigate why pic of Sandy Hook's Noah Pozner is among Peshawar massacre victims
~Éowyn