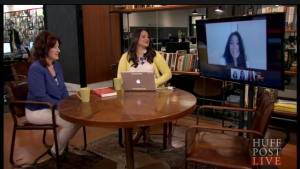 I recently had the honor of participating on HuffPost Live's segment "How We Can Understand Love Through Science" with Dr. Sue Johnson. Dr. Johnson's book, Love Sense, is a result of her groundbreaking research on our emotional bonds and attachment styles. Love Sense "presents new scientific evidence that tells us that humans are meant to mate for life. Dr. Johnson explains that romantic love is an attachment bond, just like that between mother and child, and shows us how to develop our "love sense"–our ability to develop long-lasting relationships. Love is not the least bit illogical or random, but actually an ordered and wise recipe for survival." -Little, Brown and Company
Dr. Johnson says that she wrote this book as both a guide and a warning. Tune in to hear about her views on sex, dating, love, and the impact social media plays on our relationships. http://live.huffingtonpost.com/r/segment/third-metric-thrive-on-live-love-sense-dr-sue-johnson/5363f31f02a7604eae00045c She's concerned about our relationships in the age of technology because "it is making people lonelier and more isolated". I asked her what her thoughts were on online dating and why single women are having difficulty finding sincere men. I see it as a function of online dating. We treat online dating like we do our social media streams and select only the images that stand out to us. Is it related to a faulty attachment style? Tune in to hear Dr. Johnson's take.
What do you think? Are we selecting people based on superficial qualities and discounting other factors? Do you think online dating makes it easier to run game? What frustrates you the most about online dating?