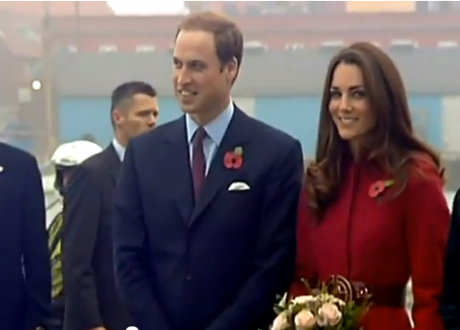 The Duke and Duchess of Cambridge. About to be expecting, perhaps? Photocredit: http://www.youtube.com/watch?v=Jp5eZeO5378
So, the Duke and Duchess of Cambridge, aka Prince William and Princess Catherine (known as Kate), like most other newly-married couples, might be trying to have a baby. That's might. Because we don't know. There is a serious side to the story though – their child is a possible future monarch. The pressure on Crown Princess Masako of Japan to produce a male heir for the Chrysanthemum Throne (which does not allow women to ascend) caused her to become clinically depressed. Luckily there are no such pressures on the Cambridges – but there is still a lot of media interest. At least we know that Kate isn't pregnant with twins.
So what are the signs that everyone's eagerly looking at?
They're moving house! Well Derek McGovern on The Mirror said one sign that the Duke and Duchess of Cambridge were about to drop a sprog was that they'd chosen to settle in Kensington Palace, into a bigger apartment. (Because obviously babies can't be born anywhere else.) And also, Will has asked for more photos of Kate's sister, Pippa. (Though why that would be a sign is beyond Periscope's knowledge.)
She touched her stomach! It must be true! Today gawped that she touched her belly on a goodwill trip to Copenhagen – and on the very same trip, she refused to eat peanut paste! As everyone knows, that's what pregnant women are told not to eat by doctors, because of allergies. The paste in question is the stuff being sent to East Africa for the famine.
The Middletons are meeting! No, no, it really is true!  Examiner said that the Middletons had descened upon Scotland for a family meeting – which suggests there may be a big announcement soon, as they last met in Scotland to chat about the wedding. Scotland is obviously the place to go if you want to announce that your family is expecting a baby.
Genetic heritage. Well, whether it's a boy or a girl (and betting shops are offering odds on it – William Hill is offering Evens that it will be a girl. Surprisingly), it will be tested for porphyria, said Gather – the disease that caused King George III to go mad.
Leave them be. "Poor Kate and William!" said Lisa Marsh on MindfulMum. They have to deal with this endless speculation – imagine the pressure. They should be left to do it (as it were) in their own time.
For your own private delectation, watch the very moment when Kate refused the peanut paste, right here, right now:

And also a report on Kensington Palace, where they've decided to live: