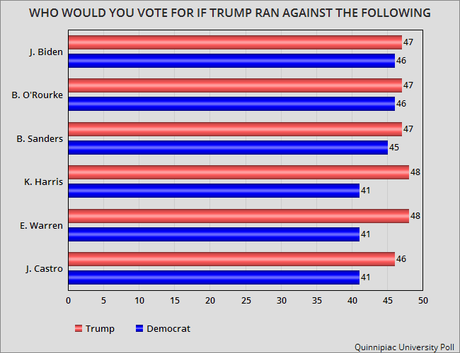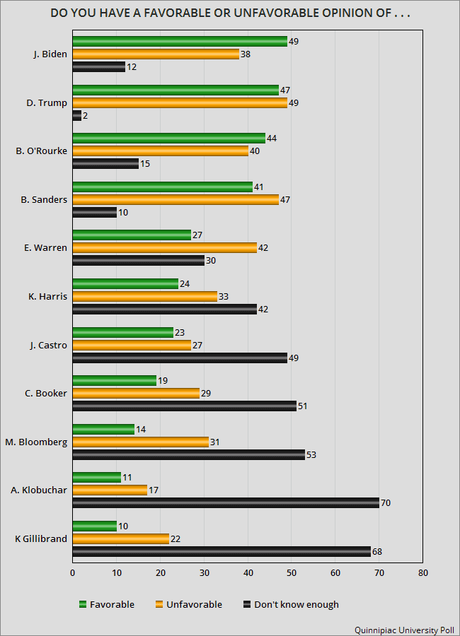 A couple of days ago, I brought you a map of the electoral college prospects for 2020. The map, by Taegan Goddard, had Texas listed as competitive. At the time, I expressed my doubts. Texas is still very red, and has many people who will vote for anyone with a "R" beside their name on the ballot.
But maybe I was wrong. Look at the charts above. A new poll shows that three candidates would run very well against Donald Trump. Joe Biden and Beto O'Rourke trail him by only 1 point, and Bernie Sanders trails by only 2 points -- all well within the poll's margin of error.
Biden and O'Rourke also have a net positive favorable rating in the state -- Biden by 11 points and O'Rourke by 4 points. All other candidate have a net negative rating, including Trump (by 2 points).
Could a Democratic presidential candidate turn Texas blue in 2020? Probably not, but it is within the realm of possibility -- and that should have Democrats pulling out all the stops in Texas. It would be a mistake for the Democratic candidate to write off the state.
These charts reflect the results of a new Quinnipiac University Poll -- done between February 20th and 25th of a sample of 1,222 Texas voters, with a 3.4 point margin of error.