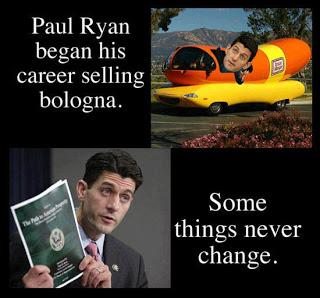 You're gonna love this one.
From Americablog.com.
Last night at the VP debate, Ryan told a touching tale of how he and his wife viewed the 7-week ultrasound of their first-born child, and how the wee baby was in the shape of a bean, and so they decided to nickname the baby Liza, "Bean."
And that's when Mr. Ryan came to believe life begins at conception.
Isn't that sweet?  Do you have tears in your eyes?
Hah!
Did you know that Mr. Ryan was reported to be a fan of Nirvana, the band founded by Kurt Cobain?  Did you know that Kurt Cobain and Courtney Love named their daughter Francis Bean Cobain?  Here's how it happened:
"Frances Bean Cobain was born at Cedars-Sinai Medical Center, and was immediately anointed the world's newest rock princess. ... Kurt Cobain named his daughter after Frances McKee, the guitarist for The Vaselines, and gave here the middle named [sic] Bean because he thought she resembled a kidney bean on the ultrasound."
John Aravosis, of America Blog, suggests that perhaps Mr. Ryan misspoke, that perhaps he "named his daughter Bean because Cobain named his daughter Bean."
Or not.
Perhaps, as Aravosis also suggests, Ryan made up the story.  I mean, it's a good story.  Right?  And we know how Ryan has a history of telling lies.  "There was the time he claimed he climbed 40 of the Rocky Mountains."  And then he bragged about running a marathon in under three hours.   Then he said he didn't want stimulus money when he did.  I hadn't heard this one, but Avarosis says that Ryan once claimed to have just 6 percent body fat!
Is Ryan just another Republican liar like Romney?
You betcha, to quote another Republican liar!
Read the full story here.