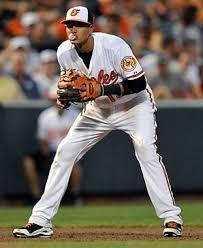 True story, right?  All the talk over the past year was who was going to be better, Trout or Harper.  Unfortunately, neither of them may be the answer.  Manny Machado has somewhat quietly become one of the best young players in the game.  He's an absolutely beast defensively, playing a position he didn't play coming up, he's a pretty damn good hitter and he's only 20 years old.  So yeah, he's in the conversation.  So far this season he's been worth 2.3 wins above replacement (WAR.)  That's good for the sixth best performance so far.  Most of that has come from defense, but it's not like the guy isn't hitting.  Other than Shane Victorino, no one has been more valuable defensively.  Much like Mike Trout a year ago, it seems that Machado can just about do it all.
So why hasn't he gotten the press that the other two have received to date?  Dumb luck probably.  Harper is in DC, playing for a team that has burst onto the scene in the past year.  He's also a #1 overall draft pick who made it to the bigs in unbelievably quick fashion.  Trout plays in LA and was worth over 10 WAR last year.  He battled Miguel Cabrera for the MVP and sparked a huge debate about old versus new statistical analysis.  Harper is a polarizing figure who goes hard all the time as evident by his recent meeting with a right field fence.  Trout is a lumberjack of a player who seemingly does everything really, really well.
Machado?  He plays in Baltimore, and while their playoff run last year was entertaining, Machado doesn't have the personality of the other two.  He's a quiet guy who let's his play do the talking.  He's in a small market town where fans haven't come all the way back from the numerous losing seasons that they've endured prior to last year.  Even here in Baltimore, Machado is loved, but there are so many other young players that he almost gets lumped in with them.  And, I don't think it's a bad thing.  In fact, I think that it has probably helped his development.  He hasn't needed to be a savior.  Machado hasn't had to carry the team.  He simply had to do what he does best, play defense and contribute on the offensive end, and he's doing magnificently.
Honestly you can't go wrong with any of these players.  All three are franchise starting players and will be good for a long, long time, I just think we need to start looping Manny Machado into that group.  The kid played a little more that a full season in the minors before making his debut and it looks like he's going to be an Oriole for a long time.
Head to the 1:23 mark for Manny.