The big question that always brings up a debate – Is iPhone better than Android phones? When someone asks me the same question, I always tend to avoid it because I think both type of phones have their own qualities. The popular marketing company, Experiean has decided to dig a little deep into this matter to find how users spend time using their phone.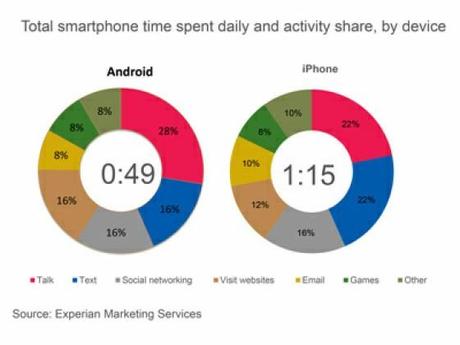 The research data came from 12,770 smartphone owners in America. According to the data, iPhone owners uses their phone mostly for misc activities like texting and emailing while Android users use it mostly for calling. The report also shows that iPhone users spend more time using their phone than Android users. Does that mean iPhone is more fun to use than Android phones?
Well, I think the usage report of 12,770 users in America is not enough to make a firm decision on this burning question. And it's a well known fact that Android is popular than iOS in the world. So, I think if this research were to made from users around the world, the end result would have been different than this. However, this proves that American iPhone users uses their device more often than Android users.
[Via: 9To5Mac / Source : Experian]
(All the images, trademarks, logo's shown on this post are the property of their respective owners)
Roshan Jerad Perera