Gardening in April is cold, showery, stirring and green. It makes me think that - this year - I can grow the tallest sunflower or the bluest blue poppy.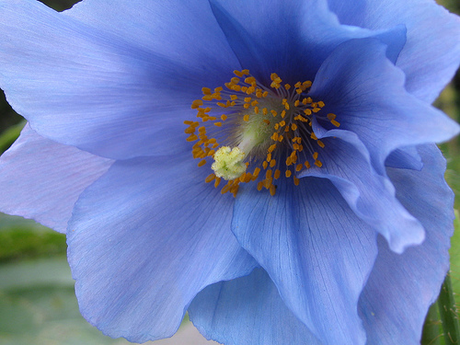 The blue poppy (Meconopsis grandis). Photograph: Wolf94114/Creative Commons
I've been indulging in another thought as well lately; that gardening might be cool. It's quite possible that the spring rains have dampened my brain of any sensible thoughts, but I think this feels like the point where gardening "shapes up" and goes through its own Grease-style transformation where it ditches the long skirt and wholesome pastels, and transforms into bad-girl Sandy, complete with spray-on leggings and the shocking rebellion of big hair and gold hoop earrings.
Gardening is a broad church and it isn't that gardening in the traditional sense is being supplanted, but more that people are finding different ways to do it. These often have an activist streak to them and they can range from the covert operations of guerilla gardening to gentler things like community gardens and the grow-your-own movement. It's a trend that comes from the reaction against the prevailing culture of neglected urban spaces (in the case of guerilla gardening) and people's detachment from their community and where our food comes from (in the case of community gardens and the grow-your-own movement).
The point is that gardening has something of a subculture or counterculture now, and it's this that is drawing in the cool folk. 
All this culminates in the Chelsea Fringe, which is taking place in the three weeks between 19 May to 10 June 2012. It's the grassroots alternative to the established Chelsea Flower Show (which runs from 22 to 26 May 2012) and there are a range of projects and events taking place which include pop-up shops, art exhibitions and secret gardens. I'll be looking on eagerly and I hope it becomes as much of an annual fixture as the Edinburgh Fringe.
I've never been cool, but this may be the happy coincidence where I find myself inadvertently ahead of the curve now that caring about the environment and your community, and caring about plants and gardens is expressing itself in imaginative new ways. I'm hatching plans of my own about doing something, but as befits my new-found status, I'll be cool and mysterious and keep it under wraps for the moment.
Fellow gardening geeks - let us join hands with the artists, hipsters and community organisers and let us go forth and grow things! (I have a dream!)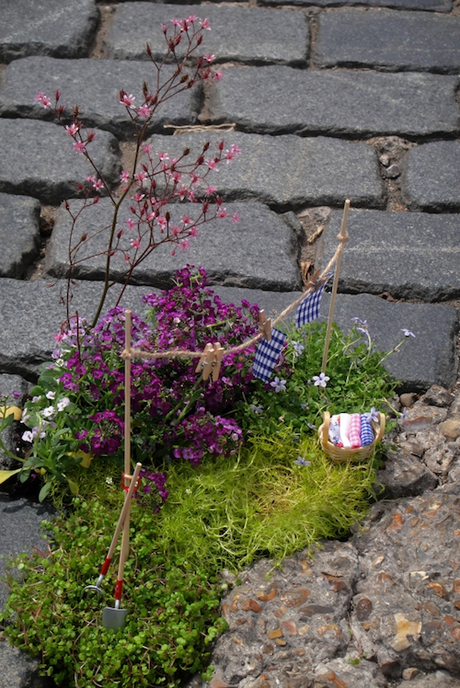 A mini garden created by the Pothole Gardener. Photograph: Steve Wheen
Permalink | Leave a comment  »