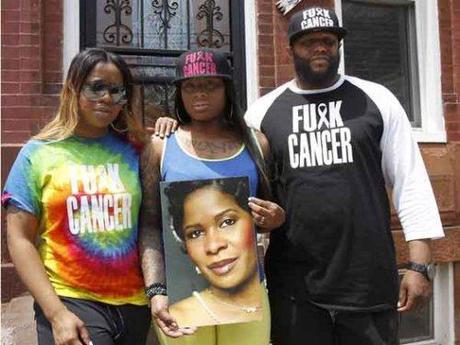 Photo by David Maialette
Did cancer hats go to far?
Philly.com: Just hours before dawn on May 14, Jackie Underwood's three daughters held her  in their arms as the cancer stole the last breath from her broken body.
For many days before, and almost every day since, her children – Makia  Underwood, 32, Zakia Clark, 29, and Tasha Clark, 27 – have worn hats and shirts  that read "F— CANCER," with the "C" in "F—" replaced by a  breast-cancer-awareness ribbon.
"That's how we feel. It took our mom away. It's a demon. It's the devil,"  Zakia Clark said. "There are no other words you can use to explain how you feel.  You want cancer to get cancer and die."
Zakia and Tasha Clark were wearing their black-and-pink "F— CANCER" hats  Sunday when the three sisters went to King of Prussia (KOP) Mall with a group of  friends and relatives to pick out a dress for Zakia's 9-year-old daughter to  wear to her grandmother's funeral today.
The group shopped for 2 1/2 hours, then split up, and Zakia and Tasha,  Zakia's daughter, an adult female friend and two girls younger than 5 grabbed  something to eat from Master Wok at the mall's upper-level food court.
The ladies had just sat down when a security guard approached them and,  without a greeting, ordered: " 'Take your hats off,' " Zakia said. Zakia took hers off, but Tasha, who once worked at the mall, told the guard  she wanted to see something in writing. It was almost as if Tasha were channeling their mother's strong spirit, Zakia  said, and it inspired her to put her own hat back on.
"He said, 'Since you don't want to take your hat off, you can leave my  mall,' " Zakia recalled. "He stood there while we ate and threatened to  call the cops." Out of nowhere, Zakia said, seven more guards surrounded them. "I was very embarrassed," she said. "My daughter was so scared she was  crying."
As the group was escorted to the mall office, Makia called and met up with them. "I couldn't believe they were acting like they were going to arrest my  sisters," she said.
Once they got to the office, the women were met by an Upper Merion Township  police officer, who had been called to the mall by security guards.
"The officer said, 'I find it offensive that you even have that hat that says  'F— CANCER,' " Zakia said. "He said, 'It's their mall, they want you out, you  have to get out.' "
The women were escorted out, and two security cars were waiting for them at  their car just to make sure they left, Zakia said.
"I just wanted to tell them the whole story," Makia said of the guards. "I  wanted to tell them a monster came into our house, got into my mother and we had  to watch that until the day it took her, so don't tell me it's offensive to say,  'F— CANCER.' "
After the Daily News began looking into the incident, Les Morris,  spokesman for Simon Property Group in Indianapolis, which owns King of Prussia Mall, called Zakia yesterday to apologize. Zakia said Morris was sincere and even asked for her mother's name and  inquired about her battle with cancer.
"Certainly this could have been handled in a much more empathic and sensitive  manner," Morris told the People Paper. "We're very sorry about her loss and  wanted to apologize for the way her party was treated."
Morris said it's important for the mall to be "flexible." "I do think this is an entirely different situation than a 16-year-old kid with a swear word on his T-shirt cruising the mall," he said. "We need to be  empathic, sympathetic, and listen and make sure that we're approaching each  situation as it comes up."
To express their displeasure with the way they were treated, the sisters and  Wade had planned a protest for 7 p.m. tomorrow at the mall entrance near  Nordstrom, Zakia said.
The event will go on as scheduled, and they will wear their "F— CANCER"  hats and shirts, she said. But in light of the apology, it will be more of an  awareness rally against cancer. The sisters won't be wearing those shirts and hats today.
"I'm not mad at God," Makia said yesterday. "But the picture of my mother I  was left with is beyond 'F— CANCER.' "
I've lost loved ones to cancer yet never had the desire to wear a shirt that says this. I'd be concerned about young children reading the words and parents having to explain them. What do you think?
<a href="http://polldaddy.com/poll/7122596">Take Our Poll</a>
DCG