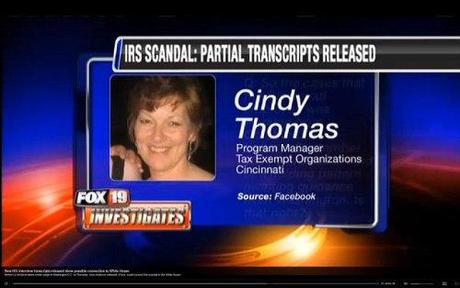 Daily Mail: The IRS agent in charge of the Exempt Organizations Office in Cincinnati at a time when political groups were targeted for extra scrutiny has just received a promotion.
Cindy Thomas, a 35-year IRS veteran, has been appointed to the senior technical adviser team for the Director of Exempt Organizations.
The position became available after Sharon Light, who worked closely with Lois Lerner, left the organization. She was the sixth senior IRS official to leave since the scandal broke three months ago. Light left the job to take up a position with  the American Cancer Society.
Lerner is the embattled former head of the IRS Exemptions Office who has been called upon to testify before the House  Oversight and Government Reform Committee. She is on administrative leave from the organization while investigations are ongoing, according to various media reports.
Kenneth Corbin, who has taken up Lerner's  position, wrote in an email to employees: 'Cindy brings a strong background in EO Determinations and the history of the organization,' 'And, since she is located in Cincinnati,  she will provide a voice for the process and challenges faced in determinations work.'
According to  a Fox News report, Thomas was the person in charge of IRS workers who dragged their feet on tax-exemption approvals.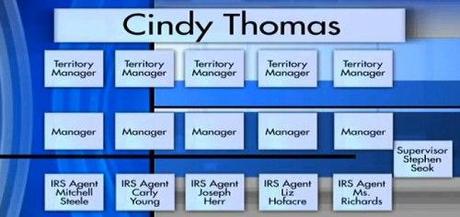 'When an application for tax exempt status comes into the IRS, agents have 270 days to work through that application. If the application is not processed within those 270 days it automatically triggers flags in the system.
'So who in the chain of command would have received all these flags? The answer, according to the IRS directory, is one woman in Cincinnati, Cindy Thomas, the Program Manager of the Tax Exempt  Division,' reported Fox News.
But the question of whether there was any type of political motivation for the IRS tax exemptions department's Be On The Lookout list has not yet been answered.
According to Congressman Elijah Cummings,  transcripts of an interview with an anonymous IRS manager who describes himself as a 'conservative Republican' reveal that the IRS agent told Congressional investigators he had initiated the targeted reviews without any instruction from the White House, and that they weren't politically motivated.
On August 7, Representative Darrell Issa, the chairman of the House Oversight and Government Reform Committee, requested documents, including emails between staff at the IRS and the Federal Electoral  Commission, about the 'inappropriate coordination' of tax-exempt applications of  various groups.
So far, Cindy Thomas has not been called to appear before Congress.
And I'm not holding my breath that she will be called. Somehow this administration is made out of Teflon – nothing sticks to them nor any one who does any wrong doing under their direction.
DCG