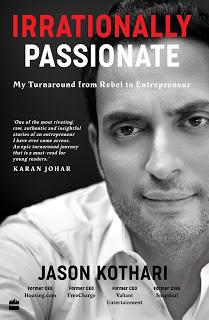 "Jason Kothari" is a rare breed of entrepreneurs that are ephemeral.
One that is rare and has been bred to shine the brightest. In a fast paced and engrossing book Jason shares his entrepreneurial journey and the of the business world.
"
ତୁଳସୀ
ଦୁଇ
ପତ୍ରରୁ
ବାସେ
"
Is a Odia proverb that means "Tulsi spreads its fragrance right from the first two leaves." Much similar to the proverb, Jason's entrepreneurial journey had spread its wings at a very early age of 8. One which he very proudly shares with the readers in the first few pages of the book.
Even being in the 30's he has been the go-to man, when a falling business needs him the most. Having turned a bankrupt Valiant Entertainment to a multi-million company, he had already proven himself as a business model and a CEO most sought after.
Valiant, Housing.com, Snapdeal, Free Charge are some of the businesses that he spearheaded as the CEO and forever changed their destiny.
Does this come easy?
Absolutely not! You have to exhaust your resources while working on a project, work with people from all types of backgrounds, learn the business laws and even know when to leave, after having built it from scratch.
The experience never comes easy. Jason describes on once such journey with the Valiant Entertainment, when things were going though the storm, he was so frustrated that he began to question his own decisions.
Why has he started, with a future that is still unknown?
What is to be gained and lost?
Was it money? NO, it wasn't, then what was it?
The experience of it, the evolving process, understanding what the customer wants and needs, working closely with the team responsible, being responsible to name a few.
Now even having gone through the turbulent times and triumphantly overcoming the obstacles, no one really understands the mindset of an entrepreneur and how it functions. A sad reality. Only the success counts when seen from the eyes of the society you live in. Not the experience, the countless hours spent researching, gaining information, facing real life situations, overcoming them. If one realizes that, they will find themselves sitting on a treasure trove of knowledge and wisdom of generations.
Jason shows you the way in this book. And makes you rethink on some of the basic facts of life.
What drives you?
What will make you get out of your bed and do things passionately?
If you find the answers to these simple questions, you will be unstoppable and find that burning desire to excel at everything you do, still accepting the fact that not every seed is meant to bloom a forest.
"Irrationally Passionate," will change your way of viewing entrepreneurship and will delve you into a hidden world of unseen experience and treasure.
It is a journey which you can make your own, no strings attached. The knowledge, experience and the thought process of changing the course of a business is all for your taking. If and only if you have the hunger for it.
Not withholding anything with him, Jason is a living reality that perseverance pays off multifold.
Wishing him all the success for his future endeavors and wish he continues his writing journey.