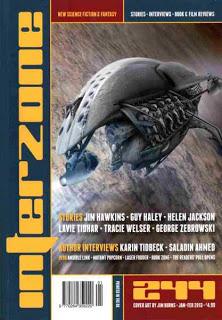 Title:  iRobot
Author:  Guy Haley
First Publication:  Interzone, Jan-Feb 2013
Cover Artist:  Jim Burns
Thank you, Guy Haley.
This short story reminds me why I like science fiction.  It is about the last functioning robot on Earth.  Humanity has died out but it is still trying to fulfill it's programming.
The title is obviously a tribute to Isaac Asimov's classic story with the same name.  Looking back even further, it is also the name of an older story by two brothers who wrote under the name Eando Binder.  In more recent times, Cory Doctorow also used this title.
Why do I like this story so much?  In addition to the title reminding me of Asimov, the writing also reminds me of the short fiction of another favorite of mine-Roger Zelazny.  The idea of the last robot on Earth is a story that Zelazny might have written in his prime.
It is worth buying this issue of Interzone for this story alone.  I will definitely be adding more of Haley's works to my "to be read" pile.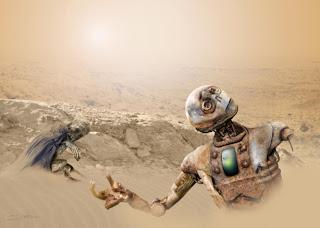 Illustration by Jim Burns