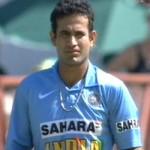 Vinay Kumar's injury brought some good news for left arm fast bowler Irfan Pathan. He has replaced Vinay Kumar in India's squad for the upcoming ODI series in Sri Lanka.
"Vinay Kumar suffered a Grade I right hamstring injury while training. He will hence not be available for the forthcoming tour of Sri Lanka," the BCCI said in a statement. "The selection committee has named Irfan Pathan as his replacement in the Indian squad." statement continued.
The Baroda all-rounder, who wasn't picked initially, now wants to make full use of the opportunity. "I am very happy with my selection in the team and I want to make good use of this opportunity but it's very unfortunate for Vinay Kumar," he said.
Pathan had made his comeback into the national side in December 2011, after being sidelined for close to three years. And he made an immediate impact, picking up a wicket with his first delivery against West Indies in Chennai. His recall had come on the back of an impressive Ranji Trophy season. The 27-year-old Pathan had then even been part of the ODI/T20 team in Australia thereafter, and the Asia Cup in Bangladesh.