Hey everyone!
I really enjoy monthly beauty subscriptions! I wanted to subscribe to Ipsy since a long time and finally got to subscribe in February as a Valentine's treat for myself

but subscriptions for Feb were full quite fast and I finally got it for March.
And I got my first Ipsy glam bag yesterday!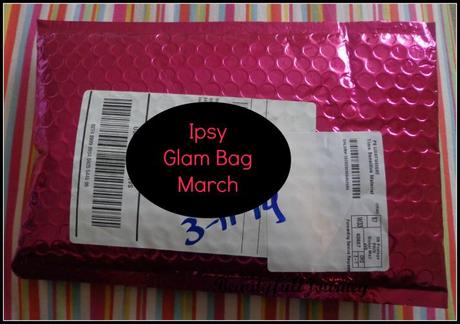 For those who are not familiar with beauty subscriptions, they're basically a subscription in which you pay a specific amount per month and you get 4-5 travel sized/full beauty products.
Ipsy costs $10 per month. Including shipping and taxes etc. And you get 4 products on an average. I find it quite reasonable.
Ipsy starts showing sneak peeks of the products you're likely to get in the month's bag. And these sneak peeks give quite a good idea of what one can expect.
When I saw the sneak peeks I got quite excited; from the options I definitely expected to get one of these – Nicole by OPI nail paint, travel sized body butter tube, Missha BB cream. I was so so happy but disappointed when I got my bag! It had products that I never expected, nor am I happy with them.
Anyway, let's get on.
The ipsy bag is different each time and this one is quite cute too.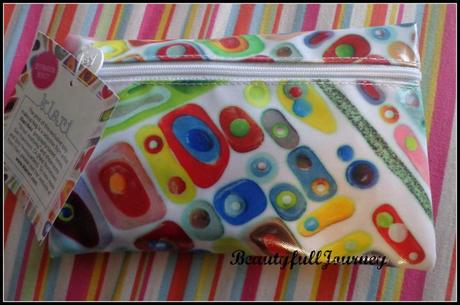 In a white base with multi colored geometric prints. Looks sturdy too. Quite useful for traveling purposes.
The month's theme was Destination Beauty.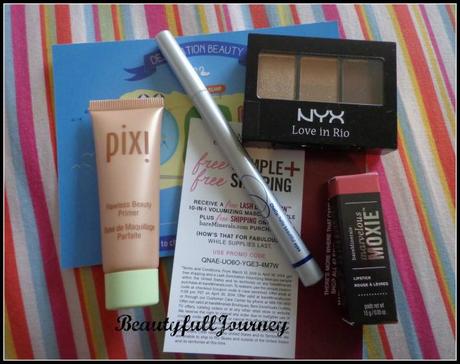 I got the following 4 products –
Pixi Flawless Beauty Primer – Pixi is a brand I really wanted to try but since I don't use primers, I'm not at all happy with this. This travel size version costs $9 as far as I know.
Chella eyeliner pen in Indigo Blue – it's a lovely blue eyeliner pen. On their site, this eyeliner costs $24 and I'm excited about trying it out, but it looks and feels exactly like the Colorbar blue eyeliner pen. And I have quite a few blue eyeliners.
BareMinerals lipstick – it's a tiny lipstick, very pretty soft rose pink shade. But I do not use lipsticks :/ aah well!
NYX eyeshadow trio palette in Love in Rio – it's a lovely palette with neutral shades and adorable packaging and a bow too :D, it costs $8 I think. But I do not use eyehsadows a lot too. Well anyway, I'll try to use it now!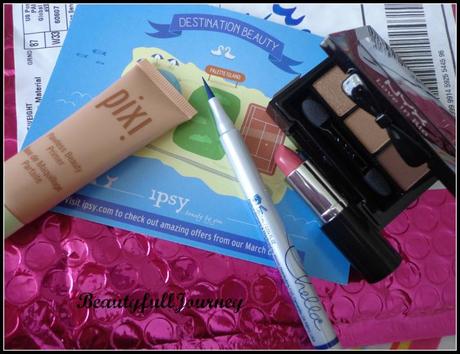 Overall, I'm not happy because none of the products are something that I'll use properly! But it's a great selection!
But the bag is completely worth the price, as in all the cost of the products surpasses the price I paid for the bag!
I'm not sure if I'll subscribe again or maybe I should give it another chance!
How did you like the products?