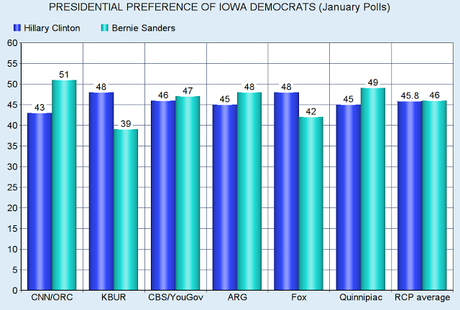 It's near the end of January, so it's time to look at the polls for the month. There were six polls done on both the Iowa and national races for the Democratic presidential nomination -- and they show radically different things.
As usual, I think the most important figure to look at is the RealClearPolitics average of all the polls -- since I believe that is likely to be more accurate than any single poll. Those averages are on the right-hand of the charts.
In Iowa, it looks like it's shaping up to be a very close race. The RCP average shows Sanders with a 0.2 point lead (which is no lead at all). As I've said before, this is going to come down to whoever is best at getting their supporters to the caucuses.
The national race shows Clinton with a significant 15.3 point lead on the RCP average (see bottom chart). Sanders still has a lot of ground to make up when the campaigns get past Iowa and New Hampshire.