IOTransfer
ITunes is the best place to store and organised all your digital downloads including music, videos and online books. One of the major problems iOs users face is during sync. The sync first of all takes a lot of time and eats up storage and bypass this there are tons of softwares out there. But we found one which is both fast and minimal. This software " IOtransfer" is very easy to understand. Let's get started and read a full IOTransfer review post and IOTransfer free download now.
IOTransfer will give you access to your device along with the contents to transfer to your desired place.
IOTransfer is the most optimal 1-Click iOS file manager which is available for Windows. This software helps Apple users to manage their devices and data more easily and efficiently. IOTransfer helps to boost the transfer speed of the data. It's one of the best 1-Click transfer software which is quite minimal and can be used by young and adults.
With the help of IOTransfer you can transfer videos, fifa, music, photos, voice recordings, Voiceover and etc, from your iPhone, iPad or iPod to your Windows PC with just a click and bulk transfers.
Read More - How to Select a GPS Phone Tracker for Your Kid?
How To Use?
Using IOTransfer is just as easy as slicing a cake. First of all you need iTunes in your Windows PC and without it you cannot access files on any iOS devices. Grant the necessary permissions. And that's all, now you can export, import data and manage your files, videos, movies, photos and music on your computer itself.
Even iTunes does the same thing but the main selling point of this software are these features :
Read More - How to Recover Data from Crashed Hard Drive
Download IOTransfer Software

IOTransfer is much quicker and smoother when compared to iTunes. Transferring 500-700 photos within a minute isn't a easy job. If you are looking to sync your files with your computer then the quick sync will easily do it hassle-free.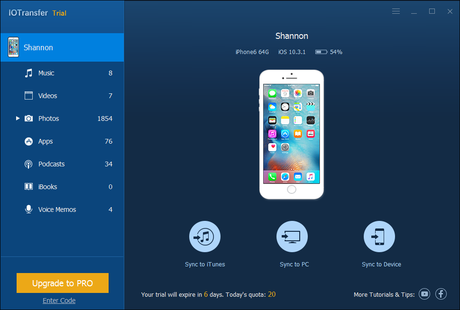 The powerful search bar helps you search files with ease. The software supports the latest iOS 11 and also latest iTunes 12.6.2.
The software being minimalistic lacks in one thing that's an inbuilt media player. The media player would have helped the users in case they wanted to delete a particular video. Of course, you can view pictures but not videos and music. Excluding that the software works like a charm.
Read More - How To Charge Phone Faster
Overall this is a must buy for every iOS users who like to keep things organised and need access to their files immediately. The free iPhone manager is quite useful.
To be honest, I like the UI way to much but the con of it is that you cannot change the themes.
With the help of IOTransfer you can not only transfer files to your computer but also to your iPhone/iPad/iPod. You can also bulk delete photos, music, videos and other files.
IOTransfer is available for almost all Windows, Windows XP, Windows Visa, Windows 7, Windows 8,8.1 and 10. If you wish to try the software before investing money then you can download it from their website, although it has some limitations. Once you've made your mind, you can buy the software for $20 per user for a year. And if you would like to buy for more than one computer then you can get the 30$ pack for 3 users for one year. I'd say this a deal which cannot be missed.
Press Kit - https://www.iotransfer.net/press-kit/iotransferpc-press-kit.zip
Think we missed out something? Let us know about it in the comments.
Related Posts
How to Unlock Data from a Scanned PDF How to Wipe All Data From Stolen Laptop How to Unlock Computer via Mobile Phone How To Charge Your Phone Faster
Did you like this article?
Please share it with your network, we'd really appreciate it!
Would you like to write for Computer Geek Blog?

Savita Singh is the author of computergeekblog, She has a superlative knowledge of Graphic and Web designing. She is a part time and award winning tech blogger who loves to write about latest technology, social media and web design. Her blog focuses on creative things of designing and tech, providing professional opinions on designing products, performances and a variety of business.