Finally, iOS7 Jailbreak is here.  95 days after iOS7 was released the iOS7 jailbreak tool is finally out!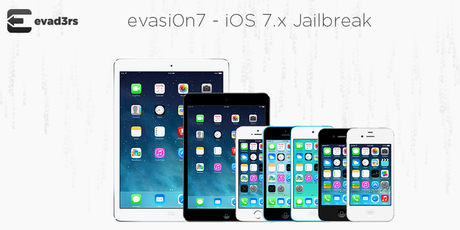 evad3rs have given us an early Christmas gift by releasing the iOS7 jailbreak tool to the public. The tool is called evasi0n which was popularly used as a very reliable iOS6 jailbreak tool. This tool will jailbreak all iPhone, iPod Touch, iPad and iPad Mini models running iOS 7.0 through iOS 7.0.4.
Head over to the evasi0n website right now to download evasi0n for your Windows or Mac.
Merry Christmas! The iOS 7 jailbreak has been released at http://t.co/wblOSKyLah! All donations will go to @publicknowledge, @eff and @ffii

— evad3rs (@evad3rs) December 22, 2013
As always these tools are very easy to use, all you need to do is follow the onscreen instructions as you run the tool and be patient with the process.
Requirements
5 minutes of your time!
A computer, running Windows (XP minimum), Mac OS X (10.6 minimum) or Linux (x86 / x86_64)
iTunes installed if you're running Windows
An iPhone, iPad or iPod running iOS 7.0 through 7.0.4 (you may check in Settings / General / About => Version)
A USB cable to connect the device to the computer
Important! Read me!
Backup your device using iTunes (or iCloud) before using evasi0n. If something breaks, you'll always be able to recover your data.
Please disable the lock passcode of your iOS device before using evasi0n. It can cause issues.
Avoid all iOS and iTunes related tasks until evasi0n is complete. Why not just enjoy a brief break from the computer to stretch your legs?
If the process gets stuck somewhere, it's safe to restart the program, reboot the device (if necessary by holding down Power and Home until it shuts down), and rerun the process.
If you get an error on OS X 10.8 saying that evasi0n can't be opened, control-click (or right-click) the app and on the revealed context menu, choose 'Open.' On the ensuing dialog box, choose 'Open' as well.
Alternately if the site goes down you can download it from the links given below
box.com Mac OS X SHA1: 6b22e1d94988a76244d08a5592576f61a0cb5ffb
box.com Windows SHA1: 8a4e1fcd7b1fc0084366c182cbcf850dfc45d59f
Mega.co.nz Mac OS X SHA1: 6b22e1d94988a76244d08a5592576f61a0cb5ffb
Mega.co.nz Windows SHA1: 8a4e1fcd7b1fc0084366c182cbcf850dfc45d59f