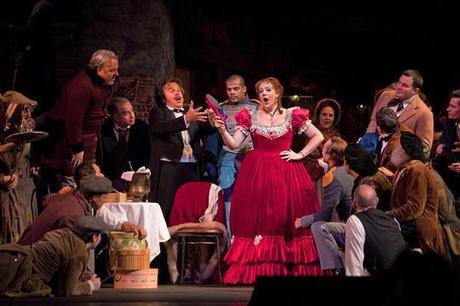 Cafe scene from Act II, Susanna Phillips as Musetta (c) Cory Weaver/Metropolitan Opera
Despite disappointment at last year's 
La Bohème,
I went again on Tuesday, and I'm glad I did. My own enjoyment of the evening was augmented considerably by the fact that I was there in the company of a friend for whom this was her first opera. She loved it, and having someone to comment in the intervals on how impressive the street scene was, or how beautiful the lovers' reconciliation under the snow, helped me appreciate it as well. The "business" in Franco Zeffirelli's apparently deathless production seemed less fussy to me this year, too. 
Louis Langrée
led the orchestra in a beautifully sensitive reading of the score, with nice shaping of phrases and real delicacy of touch. I was happy to hear the music receive the attention to detail I think it deserves (I still await a performance of 
Bohème
where I actually hear the final chords of each act.) The quality of the vocal performances ranged from respectable to excellent; the latter adjective is awarded, not lightly, to Hei-Kyung Hong's deeply-felt Mimi.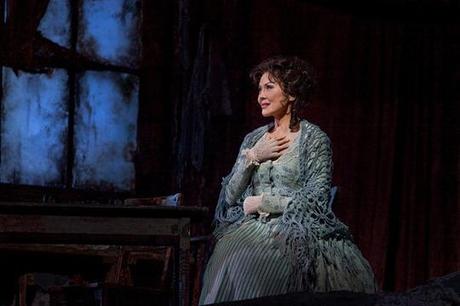 Hei-Kyung Hong as Mimi (c) Cory Weaver/Metropolitan Opera
Before getting to the bohemians themselves, I should give honorable mention to Paul Plishka, who with the skills of a veteran and undimmed energy gave gleefully witty characterizations of Benoit and Alcindoro. I was particularly interested by the fact that, in Plishka's reading, Alcindoro appears to be balanced between exasperation and resignation from the outset, perhaps berating himself for the choices that have resulted in his association with Musetta, whom Murger describes as "extremely flirtatious, somewhat ambitious, and not at all refined." 
Susanna Phillips
, as Musetta, combined these qualities with the underlying sweetness and sympathy which Puccini's music gives her. A vivid stage presence, Phillips wielded her agile soprano gracefully, sensitive to the charm with which Musetta's music is imbued. Patrick Carfizzi, as Schaunard, handled the demands of the role's conversational style well. Matthew Rose was an endearing Colline whose gravitas seemed more reticence than pomposity. His fine attention to text was an asset, especially in an understated, thoughtful "Vecchio zimarra, senti." Alexey Markov has a pleasing, plangent baritone, but his Marcello was less than idiomatic, and his dramatic portrayal oddly monochromatic for the volatile painter. He did contribute fine singing in his crucial Act III scene with Mimi; I just never felt that his performance took life.
Dimitri Pittas
' Rodolfo sounded effortful, although he was considerably stronger from Act III onwards. I worried for him at the outset, as his phrasing was not easy and his top, especially, sounded constrained. Notwithstanding, he sang with commendable commitment, and he found more lyricism for his Act III scene with Mimi, which was quite touching. Does "quite touching" actually mean "I suddenly found myself crying half-choked tears into my handkerchief"? ...Yes. This is due largely to the radiant Mimi of Hei-Kyung Hong. Hong has a voice of remarkable beauty, and her command of it was stunning; not a note or syllable was neglected. Her phrasing was lovely, and she found a rich palette of vocal color for the passion of the fragile flower-seller. "Si, mi chiamano Mimi" was spellbinding, and Act III made me ache for her. Her dramatic portrayal was equally thoughtful; in Act I, she captivated me as well as Rodolfo with her charming flirtation. The yearning with which she infused "Niuno è solo l'april" was reflected in pale hands clutching at her lover's jacket. I teared up again when she stretched out her arms to Rodolfo in the orchestral lead-in to "Sono andati," by the end of which my friend and I were both openly weeping. We grieved with the bohemians ("I wasn't expecting her to actually
die
!" said my friend afterwards) but rejoiced as audience members. Here is Hong's beautiful Mimi in 1995, from a concert performance: