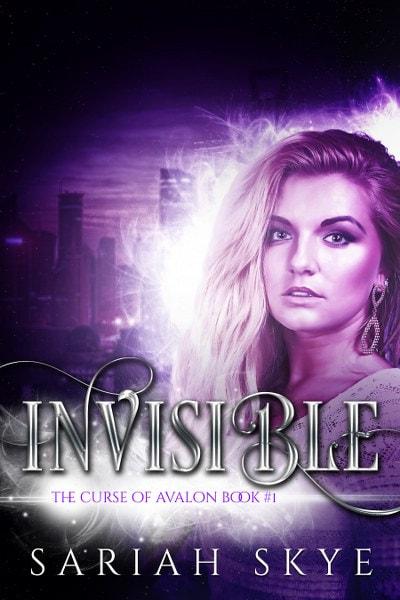 Invisible
The Curse of Avalon Book 1
by Sariah Skye
Genre: Paranormal RH Romance
My name is Ava Dawson. Ever since I was young, I have had this strange "gift" of invisibility. I can't explain it, nor can I always control it. It affects my work, my personal life, dating—all but my mother and best friend seem to be affected. No matter what I do, I seem to always be forgotten.
Until I meet these gorgeous guys during a girls' night out, and there's something strangely alluring about them. An ancient curse brings us together, while a group of supernatural "Collectors" is threatening to tear us apart. They're targeting people with special abilities like mine, and all four men have taken it upon themselves to protect me. But with their complicated pasts, I can't help but feel protective of them, too. I'm trying not to get in over my head, with these men, and the magic. 
But I have to admit, It's nice to be seen after years of being invisible.
*Author's Note: this book is 'reverse harem;' meaning, one woman, multiple love interests. This series is meant for readers 18+ only
Goodreads

*

Amazon

"So, what do you do for a living?"
I looked across the table at my dining companion. The dirty blond-haired man had a fork in one hand, and his phone in the other. His thumb swept across the screen rapidly, his eyes darting back and forth as he stared.
I blinked once, and sighed heavily. Great. Another one. Clearly, he didn't hear a word I said.
I don't know really why I was surprised; it always happened. Girl rarely goes on dates, when girl does, girl gets ignored by guy who is more interested in his phone. Or the sports game on the big screen across the room, or ogling the waitresses. Anything but the girl.
Glancing at my silver wrist watch, I could see that we'd only been here forty-five minutes. Long enough to order drinks and our meals. He'd been on his phone for forty of that.
I swallowed a large swig of my ice tea and slammed the glass down on the table, just hard enough to make a noise, hoping it would bring him out of his phone-induced stupor. The silverware on the table rattled, the plates full of food shook, but the man didn't appear rattled. His name was James, but right now he was just "the man." Because like all the others, he was being completely rude by ignoring me.
"Wow, that's interesting!" I said loudly. "Sure beats my job at the morgue. Seeing frozen penises all day long really gets quite hard." I stifled a chuckle at my own lame joke. I didn't really work at a morgue—that would be disgusting—but surely either the word "morgue" or "penis" would get his attention finally. It didn't. His eyes remained glued to the screen, although now his fork had dropped, and he was typing messages with both thumbs into the phone.
I scowled. "Yep. It gets really interesting doing what I do, dealing with the genital warts I have. It's the worst, but I have a cream that eases the chafing. Looks like hell but you don't mind red, itchy clitorises, do you?" Surely, clitoris had to get his attention.
Nope.
Time to pull out the big guns.
I looked down and unfastened two buttons on my black cardigan sweater. Adjusting my boobs so they nearly spilled out, I leaned over the table, coughing loudly.
My date glanced up from his phone momentarily. His eyes grazed me briefly. "I'm sorry, Eve, were you saying something?" Before I could respond, his phone buzzed and he was back to typing away.
I sat up straight. "It's Ava, jerk. Seriously, I get it if you are not interested in me, but I at least deserve enough respect to have you set your fucking phone down."
"You're absolutely right, Evie," he said, bobbing his head in agreement, still texting away on his phone.
I rolled my eyes. I grabbed my purse next to me, pulled a $20 out of my wallet, and slapped it on the table. "You're a dickhole." I stood up, shoving the chair into the table forcefully and stomped through the restaurant; leaving the rest of my drink and uneaten meal behind. James didn't even glance up as I stormed off to my car in the parking lot.
Summer is going to get it, I thought angrily to myself, as I drove home. She promised me this guy would be different; that she swore that her friend's brother was a nice, upstanding guy.
Ha.
And maybe he was, but I had the worst luck with men. Ever. I was just completely invisible to them. James wasn't the first man this had happened with. Literally, since I was old enough to realize I liked boys and had crushes, I've always been ignored; looked over for the prettier girl. The popular girl. The easy girl.
Somewhere along the line you think boys would have grown up, but clearly, they haven't. Now though, they couldn't know I wasn't the popular girl or the promiscuous girl right off the bat. They didn't even bother to get to know me first.
Hell, I very well could be the slutty girl, if given a chance! But this was at least the third date I'd gone on all summer where the guy couldn't get off of his phone. And it was only the second week of July. Summer just started.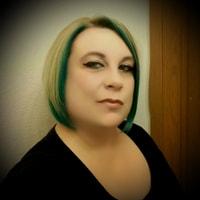 Sariah Skye physically resides in southern Minnesota with her husband, two kids and a dog (so really...3 children) but mentally her head is in the clouds dreaming of anything that doesn't require adulting. 
When not writing she's probably geeking out watching Star Trek, playing World of Warcraft, reading yet another fantasy book or staying up way too late. She'd love it if you dropped her a line at Facebook or Twitter but be prepared...she's a nictofiliac so be patient for a response while her eyes adjust to the light of day and beware of sarcasm. It helps to throw her chocolate or glitter first before engaging. Wine is also acceptable...but not to throw. Hand it over gently.
Facebook

*

Twitter

*

Amazon

*

Goodreads

Follow the tour HERE
for exclusive excerpts and a giveaway!

a Rafflecopter giveaway