NOTE:- I do accept only high quality and well researched guest post on my blog. And Mandip really did great job to describe about Raspberry Pi 3 features. Read this content carefully and you will definitely enjoy to read it and will find interesting info about Raspberry Pi 3. So let's get started 🙂
"Raspberry Pi 3 - Introduction, Specs, and Features"
The Background Raspberry Pi
Four years ago on February 29, 2012, a tiny supercomputer named as Raspberry Pi Model B was introduced by the UK-based company - Raspberry Pi Foundation. It was the first member of the pi family which comes with 256MB RAM. From time to time, the company has launched new and upgraded versions of this credit-card sized computer. And until the date, the company has shipped over 8 million devices of Raspberry Pi family. The latest Pi member was introduced on the leap day of 2016 named as Raspberry Pi 3 Model B. It is the fastest and smartest supercomputer among all the other Pi devices.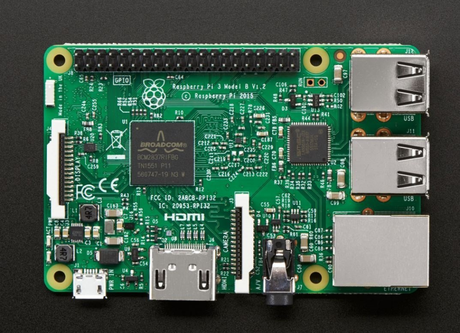 The original intense to introduce the Raspberry Pi was to train the teachers and students and make them familiar with the electronics field. The Raspberry Pi 3 is out for sale for just $35 and is as equal to the price of the Raspberry Pi 2 but with some additional features!
Read More:- Raspberry pi Zero
Introduction
The latest Pi member comes with an inbuilt 802.11n Wi-Fi, quad-core 64-bit ARM cortex A53 processor with 1.2GHz speed, and Bluetooth 4.0. You can use it as a desktop computer too. It is simply 50% faster than the Raspberry Pi 2. It has the same 1GB LPDDDR2-900 SDRAM and the graphic capabilities as the Pi 2 has. You can use wireless keyboard and mouse to control the Raspberry Pi 3.
Features and Specifications of Raspberry Pi 3
Physically there are not too many differences between the Raspberry Pi 2 and the Pi 3 Model B. Check the specification and features of the Raspberry Pi 3 below:
The most noticeable feature of the Raspberry Pi 3 is, it has a built-in Wi-Fi and Bluetooth.
It has a Broadcom BCM2837 SoC, which makes it 50% faster than the Raspberry Pi 2
It comes with a 1.2GHz quad-core ARM cortex A53 CPU with an ARmv8 instruction set
It has a 400MHz Broadcom VideoCore IV GPU
It comes with a 1GB LPDDR2 SDRAM
It has 4 USB ports and 40 GPIO pins
It has composite/HDMI Video output and Headphone/HDMI Audio output
It supports 802.11n Wireless LAN, Bluetooth 4.0 and 10/100 MBPS Ethernet
It supports Micro SD storage for keeping your data safe
What are the upgrades in Pi 3 comparing to previous versions?
Though the Raspberry Pi 3 is the exact thing which is expected from the latest Pi member, it does not have an SATA, a USB C or a PCIe connector. The Raspberry Pi Foundation has always been stick with their original goal of producing inexpensive and highly- featured computer for everyone. If they add such kind of ports on the device, then there is no other option than to increase the price. Not only keeping in mind the power users, the Pi foundation has always done their best to please the general users as well as hobbyists and tech lovers. By keeping the same tradition like last year launch of Raspberry Pi 2 had, the Raspberry Pi 3 is featured with a quad-core 64-bit ARM cortex processor with 1.2GHz speed and a new CPU.
Before the Pi 3 has launched, there was a big pre-launch newsworthy leak about the inbuilt Wi-Fi of Raspberry Pi 3, but it has a rather big feature of the upgraded CPU. The device is passed through the threshold with the help of the Cortex A53 processor. The device is not only for playing retro video games or the option of a set-top box, the tiny electronic device is a real computer system.
Extensions
The existence of an integrated Wi-Fi is a huge step up against the previous models of Raspberry Pi. The first version of the Raspberry Pi was featured with only a pair of USB 2.0 inputs. To connect the basics like a keyboard, a mouse, a Wi-Fi adapter which requires a USB hub or any other gear, this kind of port setting was really a headache. It was cured with the launch of the Raspberry Pi 2 with 4 USB ports. The Raspberry Pi 3 has gone even further with the built-in Wi-Fi and Bluetooth support, which makes it handy to connect other useful peripherals for making more advanced projects. "You may need a magnifying glass or a microscope to see the markings of the new wireless radio on the latest Pi device", the Raspberry Pi Foundation brags.
How can you use Raspberry Pi 3?
The Raspberry Pi 3 is surely the most powerful and convenient Pi device ever, which can be potentially used as a personal computer. Not only as a computer, but it is actually a power pack hardware which helps you to complete your practical and creative Raspberry Pi projects. The features are significant not only on the paper, but they have really a serious usability to boost in the real world. It works out of the box with the recommended and defaults Raspbian Operating System.
More interesting thing is that the Raspberry Pi 3 also has an FM receiver, which makes the task a lot easier for building an FM radio from the Raspberry Pi device. In earlier versions, sometimes we have to suffer from irritating pauses and straggle at the time of doing some basic tasks like checking Emails or editing documents. All these problems are gone with the Raspberry Pi 3. As the Raspberry Pi founder, Eben Upton says, "This performance improvement of 50 to 60% has moved the company some sort of line, as the Pi 3 becomes a more trustworthy PC replacement." And he has its proof also, as the Raspberry Pi 3 has proven that it can handle web browsing and other basic productivity tasks.
Things needed to up and running the Raspberry Pi 3
It is an interesting thing to see how powerful the $35 minicomputer - Raspberry Pi 3 can be, but you need to connect a few things to make it work with full fledge. It includes a monitor or a TV with HDMI support, a power source, a USB or Bluetooth keyboard, and mouse. You can also get a carrying case or a box to protect your Pi from an accidental damage. You will also need a Micro SD card with an operating system and storage space. You can use any OS like Windows 10 IoT, Linux distros, OpenElec for streaming media, or a Raspbian OS.
Conclusion
The Raspberry Pi 3 Model B is the first board which is up to the mark to fulfil the promise of getting computer science students interested. It is inexpensive and has some extraordinary features to make it reliable and trustworthy to be given in the classroom of elementary students. Though it requires several accessories to get going and some people may be imposed to set it up, the Raspberry Pi 3 is a highly recommended tiny computer available at just $35.
Did you like this article?
1. Please share it with your network, we'd really appreciate it!
2. Would you like to write for Computer Geek Blog?
3. Keep subscribe us and follow us on Facebook and twitter for more tips & ideas about new technology.

Mandip is a graduate in Information and Technology. He is a passionate blogger, SEO Specialist, and a Software Developer. He loves to write on technology, SEO, and Internet Tips and Tricks. Currently, he blogs at the BestonInternet.