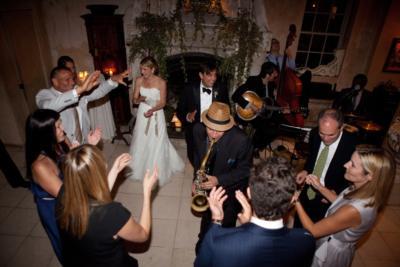 Ted Hefko's New Orleans Band must have the perfect playlist - look at all those dancing guests!
Music is such an essential part of any wedding reception. Whether you want your guests high tailing it to the dance floor or singing along from their seats, you'll want tunes that everyone can enjoy. If you've booked your entertainer from GigMasters, you're off to the right start! Now it's time for the next step…drumroll please… the playlist!
We have created The Wedding Playlist series to give you an idea of what songs are popular at a wedding styled similarly to your own. Throughout this series, we'll be reaching out to our top performers who cater to different tastes and themes; from country bands, to rock n' roll duos, to DJs with today's hits. Each post will spotlight a new style, so be sure to check back often!
As always, feel free to send us any comments or suggestions on a playlist style you would like to see featured. Your feedback is always appreciated!
If you haven't booked your wedding entertainment yet, don't worry! We have tons of tips on how to hire different styles of entertainers on our Life of the Party blog. Not sure what you're looking for? Check out what kinds of performers are most popular in your area by reading our Wedding Cost Series, or give our wonderful Customer Experience experts a call! 866-342-9794