Hello friends! Today I would like to introduce you The Children's Bookshelf linky. I have enjoyed sharing the children's books on Book Sharing Monday over the last year. I have now teamed up with a few of my fellow bloggers who have a special interest in children's books and together we will be bringing you The Children's Bookshelf every Monday.
Every Monday we invite you to visit The Children's Bookshelf, a place to connect with other parents and children's book lovers to share new finds and old favorites.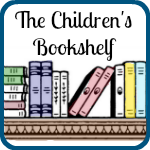 How to join:
 Every Monday visit The Children's Bookshelf, hosted at one of the following blogs: What Do We Do All Day?, No Twiddle Twaddle, Smiling Like Sunshine and Mouse Grows, Mouse Learns. You can link-up your post at any time during the week and it will be displayed on all four blogs. 
Link up your children's book related posts. We love posts about book news, reviews, reading tips or any other book related items you think will be of special interest to parents. 
 Consider adding The Children's Bookshelf button or text link to your post to let others know where the book party is. You can grab the code from the box underneath the button below. Click the text, copy it and paste it in the HTML of your post. 
Visit other posts, and share your comments. We want this to be an interactive community of book lovers. 
 Follow the The Children's Bookshelf on Pinterest, where we will be featuring some of our favorite posts from the link-up every week. 
Never miss a post again! Sign up to receive all posts direct to your inbox.
Enter your email address:
Delivered by
FeedBurner