I was so excited to learn that Softsoap has released their new limited edition body washes for winter! If you've been reading my blog for a while, you know that I'm a huge fan of Softsoap body washes, and I always look forward to see what new fragrance they will release next. This time, they've introduced the following: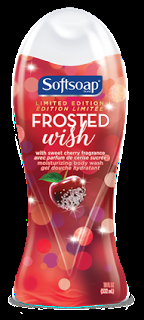 Frosted Wish

Relish the rich scent of sweet cherry and welcome the magic of the holiday season with the new limited edition Frosted Wish moisturizing body wash. Let the smell of fresh cherries transform your shower into a sensory wonderland, while the creamy formula leaves skin feeling soft and smooth all winter.
I have been using the Frosted Wish body wash for several weeks now, and I just love the way it smells! It's really rich and creamy, and a little bit goes a long way. I love how wonderful my skin feels after taking a shower with this body wash.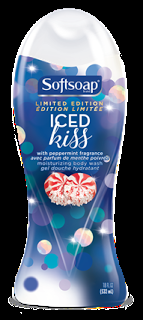 Iced Kiss

Welcome winter by treating your senses to the festive fragrance of peppermint with the new limited edition Iced Kiss moisturizing body wash. The invigorating kiss of peppermint will awaken your senses, while the rich formula leaves skin soft and radiant all season long.
Peppermint is one of my all-time favorite scents when it comes to body products, so I was thrilled to learn about Iced Kiss! This scent makes me feel happy and tingly all over, not to mention that it reminds me of my favorite holiday season! Like all Softsoap body washes, it's super moisturizing, and I know it will help to keep my skin in good shape when cooler weather strikes.
Softsoap Frosted Wish and Iced Kiss body washes will be available from November 2017-March 2018 for a limited time at Walmart. They're only $2.97 for a generously sized 18-ounce bottle! I hope you'll pick up some for yourself and the special people on your gift list this year. Learn more about Softsoap products at Softsoap.com.

Disclosure: I received complimentary product sames for review from Colgate-Palmolive. However, all opinions are 100% my own.