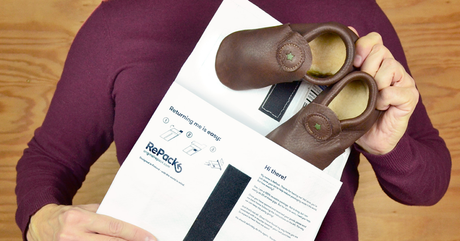 Here at Softstar, we take sustainability seriously as one of our core values. As a part of this commitment we are excited to announce a new no-waste shipping option now available to all customers within the USA.
Meet RePack reusable packaging! RePack has created a service with durable reusable bags that can be shipped, returned, cleaned and reused up to 50 times over their life cycle. This process is streamlined and highly effective at cutting down waste from single-use packaging. We were the first company in North America to pilot this program for a test run back in 2019 and we are now thrilled to add RePack as a standard shipping option on Softstar's website.
The process is very simple:
We ship your order using RePack packaging.
After receiving your order, you ship the reusable container back to RePack at no charge by using a pre-printed shipping label included with the package.
RePack checks and prepares the package for the next cycle, then resupplies vendors (like us) with a new batch of their packaging.
All USA customers now have the opportunity to select RePack at checkout in combination with USPS Priority Mail shipping. We hope you give it a try!
What Difference Does it Make?
Using RePack not only reduces the waste that ends up in our landfills, it also creates significantly less CO2 emissions than disposable plastic and cardboard packages. Here are a few statistics:
RePack can reduce the carbon footprint of shipments by up to 80% when compared to disposable packages.
The carbon footprint of a RePack package breaks even with only the second re-use.
RePack reduces packaging waste by up to 96%.
If you are curious to learn how this data was calculated then click here to see the results of the study, including an explanation of the methods used.
Award Winning Solution
RePack has already received widespread recognition for their innovative solution to a growing environmental problem. Here are some of the awards they have received for both their design and impact on sustainability:
2020 German Design Award - German Design Council
2020 German Sustainability Award - Deutsche Nachhaltigkeitspreis
2019 Circular Economy Honorary mention - Sitra & Excellence Finland
2019 eDelivery Barcelona - Startup competition Winner
2018 The Circulars - World Economic Forum, Davos
2017 Werkstatt - German Government
2017 Nordic Council of Ministers Environment Prize
2017 Design Intelligence Award - China Academy of Arts
2016 Werkstatt - German Government
2015 Climate KIC Nordic Venture Cup Winner
2015 White Bull Award - Spain
2014 Fennia Prize Winner - Finland's Most prestigious design prize
2014 Slush Top 100 Finalist
2014 Green Alley Winner - Germany
2013 PacTec - Finland - Packaging Innovation Award - Finnish Packaging Association
What Do You Think?
We are curious to know your impressions of this reusable packaging system. Would you be happy to receive a RePack package with your order? Let us know in the comments below.