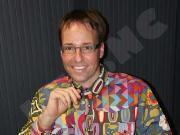 Who is Jean-François Vernay?
Born in
New Caledonia
, Jean-François Vernay holds a PhD from the Université
Toulouse-Le Mirail
. As Founding Editor of
Correspondances Océaniennes
, a Nouméa-based postcolonial journal focussing on Oceanic cultures, Dr. Vernay has been editing articles on postcolonial societies for five years, while regularly publishing articles in refereed journals and collections. 
He is the author of two acclaimed monographs on Australian fiction:
Water From the Moon:
Illusion and Reality in the Works of Australian Novelist Christopher Koch
(New York:
Cambria
Press, 2007) and
The Great Australian Novel – A Panorama
(Melbourne: Brolga, 2010) which first appeared in French under the title of
Panorama du roman australien des origines à nos jours
(Paris : Hermann, 2009)
In 2009, Vernay received an Excellence Award from the THESE PAC jury in the South Pacific-Australasia category for his work on Koch.
Thanks to modern social media, I connected with Mr. Vernay several weeks ago. When I told him about my insatiable curiosity about people and what makes them tick, which led to me posting interviews on my blog, he said he would be happy to let me ask him some questions. A few days later, I found his answers in my inbox.
What or who inspires you?
Passion. No wonder Georg Hegel said that nothing great in the World has been accomplished without passion.
Passion is a strong incentive for action.
When did you first know you wanted to write more than postcards and letters?
The writing itch came when I felt I had something to pass on. At first it was my knowledge and understanding of the works of Christopher Koch which I thought could benefit students and teachers alike. Then the itch became more something of an urge to condense all the years I have spent reading Australian novels into one book: a kind of potted literary history, if you like. I had to write this one in French to show that I could also express myself in that language. Fortunately, as soon as it came out it was translated by Dr. Marie
Ramsland 

and got published in

 Australia 

under the intriguing title of

 

The Great Australian Novel – A Panorama

 

(Melbourne: Brolga, 2010). And while this translation was being done, I thought I might try my hand at fiction, so I wrote a postcolonial fable on the themes of exclusion and isolation. The manuscript has recently been accepted for publication, so this new book will probably come out in 2012.
Who, living or dead, fictional or real, would you like to meet and pick their brains for ideas?
I have ideas of my own, so I am not inclined to pick anyone's brains but I enjoy tremendously meeting beautiful and inquisitive minds, visionaries, people with dreams and ideals, who try to shape the world into something better. You probably expect big names like Martin Luther King, Henry Dunant, Louis Pasteur, Gandhi, if not writers such as Antoine de Saint-Exupéry, Jean-Paul Sartre, Salman Rushdie, Patrick White, and the likes… But I have met individuals whom I find exceptional and some of them are my friends, some being more famous than others: painter Charles Billich, scholar Nicholas Birns, writer Antoni Jach, architect Jean-Pierre Kerdoncuff, to name a few. And it is always sheer pleasure to exchange with them. I love the confrontation of ideas, the swapping of knowledge, the mind-expanding conversations and the food for thought lingering in your mind until it shapes up into a dazzling and innovative project.
What advice do you have for aspiring writers?
Follow your dreams but don't forget that being published is an experience in humility. Don't shy away from other people's judgement; don't curse the entire world when you get a rejection slip. Keep on SUBMITTING with fingers and toes crossed. And if you want to opt for vanity publishing, spare the trees: create a blog and put your prose online, sell your manuscript electronically or through print-on-demand processes…
What are you working on now?
An innovative method of appreciating and analysing fiction – but this is strictly confidential for the moment.
Links to Mr. Vernay:
http://jean-francoisvernay.blogspot.com/

Blog: 

http://jfv-australiana.blogspot.com/