Most major cities have some kind of restaurant week where hundreds of restaurants offer a pre-fixed, set-price menu for lunch and dinner, creating a foodies paradise. I have participated in Chicago's restaurant week the last few years, and I am never disappointed, and I usually find a place I would try again. So when the concept of
Hotel Week
came up, my curiosity naturally took over. What a great way to not only draw in more tourists, but also let locals experience a nice evening at a hotel. Stay-cation anyone?
Baltimore held its inaugural Hotel Week in mid-February (Feb. 8-18), a slow month for tourism in the city. The promotion offered attractive discounts and perks to locals and tourists on less busy days of the week from about 14 hotels. One of the deals from The Holiday Inn Baltimore-Inner Harbor included a one-night package for $101 or a two-night package for $202. The bundle included breakfast for two, a welcome amenity and a split of local wine. Those who booked two nights also received a little bonus: Two adult tickets to top Baltimore attractions.
New York held its second annual Hotel Week in January, following a particularly successful inaugural year. In 2012, New York's promotion featured deals from eight hotels starting at around $100 a night--a sweet price in New York City. In its second year, the promotion expanded to 26 properties offering rates of $100, $200 and $250 a night at hotels that would have originally charged upwards of $500 a night. The most popular hotel was the Maritime Hotel, which booked 225 rooms for the week. Next year's Hotel Week is expected to be even bigger, since hotels get a jolt of extra business at a time when people generally are holding off on spending after the holidays.
Ocean City, Maryland, has been ahead of the game. It will host its third annual hotel week at the end of the summer, a time when people are traditionally packing up to leave and prepare for the upcoming school year. During the week, hotels will be offering free-nights, discounts on multiple-night bookings, among other offers.
Other cities are following suit as a means of gaining some more tourists during non-peak seasons. A hotel week is being planned for the Caribbean in August, usually a slower time for the islands.
I definitely think Chicago needs to get on board with this idea, especially during the miserable winter months when few people want to venture to the Windy City--or even go out around town, if you live here. Most people are hybernating in the winter, but with some incentive--like a super cheap hotel room--people may be persuaded to emerge from their dark caves and enjoy a nice evening away. And they may even check out some local attractions or restaurants, just for the hell of it! I enjoy staying at hotels, and I would not be opposed to spending a nice weekend in downtown chicago at an upscale, out-of-my-price-range establishment. An escape within my city.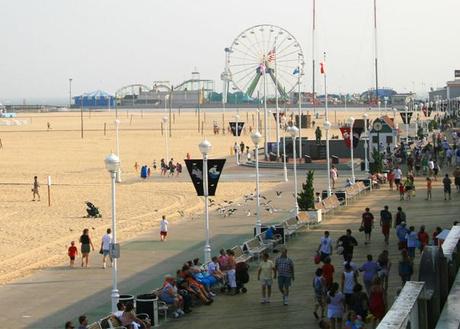 Ocean City, Maryland
I also would consider checking out some of these other hotel week promotions in cities I've never been. Ocean City sounds cool, and it's a place I would have never considered visiting before. And the Caribbean would be absolutely beautiful. The only problem there is hotel week is during hurricane season, so I would have to weigh the risks on that one. It could be worth it...