Designers are releasing their refreshing 2017-swimwear collections, so everyone's eager to see the latest fabric choices. Discover the brighter, bolder, more experimental fashion options below that women will be wearing from pools to beaches. Then browse the newest Anne Cole line at Swimsuits Direct for those upcoming trends.
One-piece looks consist of maillots, tanks, and bandeaus. Two-piece sensations include halters, tankinis, and bandeaukinis with mid-rise, hipster, and high-rise bottoms and swim skirts. Pair your favorites with cover-ups to feel stylish as you relish every carefree moment in the sun and water.
Key Themes
Vintage: Luxurious nostalgic looks revisit simpler times. Classical elegance with Victorian undertones echo the bygone era of British tradition, opulence, and structure. Dating back to the 1800s, this vintage trend highlights beauty, status, and extravagance.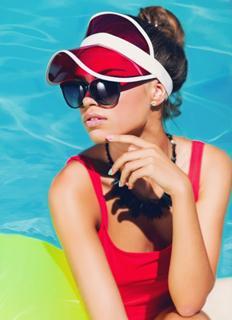 It tells a romantic tale with lavish lace and trims adorning ultra-feminine visions. Ruching flatters curves and adds interest while forming graceful, affluent appearances. Representative tints include white, taupe, rose, pink, merlot, lavender, and steel blue.
Bourgeoise: Emphasizing womanly refinement, a lighthearted charm will balance this sophisticated, mature, and sensible yet sexy style. High-society French pool and garden parties inspire Bourgeoise's relaxed mood. An elegant yet ironic pop touch is reminiscent of the 1960s-'90s. Shades include grape juice, brick dust, cendre blue, bud green, buff orange, orange.com, and limelight.
Flamboyant: Yearning for spontaneity in standardized fashions is just one of many Southern hemisphere treats. Its cultural energy and spirit motivate a flamboyant trend combining happy, lively, lush, exuberant, and generous fabrics, colors, and patterns. Natives' original art, treasured handmade wares, and creative recycling have renewed interest in ancestral techniques that craft primitive graphics and grander florals in rich tones. Intensities include pirate black, blue Danube, shady glade (dark green), greenery, nectarine, lantana (pink), acacia (yellow), and magenta.
Impression: When mental and physical wellnesses align, a serene outlook encourages a modern active existence. The impression sensibility features swintimates, novel underwear/sportswear hybrids, in water-saturated colors. It explores how pure essential forms and human senses interact with material textures' biological natures. Hues reflect the sea's iridescent surface during light/shadow interplay. Dyes include Easter egg (periwinkle blue), acacia (yellow), blue glow, amparo blue, star white, citadel (gray), India ink (black), and silver.
Survivalist: Exploring the ocean's mysterious depths offers opportunities to survive and reinvent yourself. After a rough journey from diving into intense waters to rising above them in gloomy anguish, you land on a futuristic isle. Aquatic-infused survivalist's artificial yet fancy ambiance combines forward-thinking dimensions with military aesthetics. Tones include zephyr blue, pirate black, silver, legion blue, smoke pine, anemone (maroon), sand, and formula one (red).
Standout Shades
Finding colors to flatter your silhouette and skin tone will be fun with 2017's rainbow of options. Nature and beach influences give us <a href="http://www.theswimjournal.com/featured-
articles/trendy-directions-exotic-fabrics/" target="_blank">feel-good shades that evoke pleasure, happiness, and comfort from the 1950's days of innocence. Verdant greens, watery blues, and sunny yellows depict scenic beauty. Anne Cole swimwear features women's one-piece styles showcasing emerging bold tinges like Sunkist orange, flamingo pink, blue lagoon, Pacific blue, and Tahoe teal. Those cheerful, uplifting bursts inspire leisurely delights.
Earth tones express panoramic finery from the jungle to the oasis. Fresh shades include neutral olives and clays along with burnt siennas, coppers, corals, and cool blues. Patriotic palettes honor maritime traditions with peeks into seafaring days of old. Rich jewel tones like amethyst, aquamarine, and emerald green are surfacing like shimmering gems floating up from sunken treasure chests. Sexy colors and eye-popping neon brights flaunt unrestrained wildness, highlighting womanly curves with extra flair.
Adventurous Prints
Swimwear designers are updating basic black and navy with prominent shapes and energetic patterns. Trending looks include tropical schemes with lush trees and leaves, animal prints, geometrics, chevron stripes, tie-dyes, and ethnic influences. Anne Cole swimsuits like this tankini make dramatic style statements by brandishing multihued oversized graphics. Navy and white stripes give nautical creations a timeless appeal.
Bohemian spectacles include border, paisley, bandana, and scarf prints. For a charming vintage vibe, go for the boldness of loud retro designs or the sophisticated simplicity of pastel floral themes. Create an edgy feeling by mixing various fabrics and motifs. Striped trim provides contrasts to solid colors. Innovative pairings offset dark masculine blues and grays with soft, subtle feminine pastels. Browse Swimsuits Direct's 2017 offerings for distinctive patterns that represent your signature beach look best.