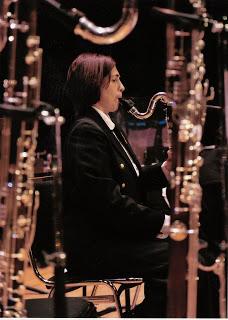 Musician First Class Cindy Wolverton earned a Bachelor of Arts from the University of South Carolina, a Master of Music from the University of Southern Mississippi, and a Doctor of Musical Arts from the University of North Texas.  Her teachers include R. Douglas Graham, Bruce Dinkins, Wilbur Moreland, and James Gillespie.  Petty Officer Wolverton spent three summers at the Sewanee Summer Music Festival, winning the Concerto Competition in 1993.  She also won the 1993 Atlanta Music Club Young Artists' Concerto Competition and was a semi-finalist in the 1996 International Clarinet Association Young Artist Competition in Paris.  In 2000 Wolverton joined the U.S. Navy Band in Washington, D.C., where she now serves as bass clarinetist.  Since 2003 she has been a member of the McLean (VA) Orchestra.  She is also the author of "Clarinetists in Uniform," a regular column in The Clarinet magazine which spotlights the activities and achievements of clarinetists serving in our nation's military bands.
KM: When did you join the military and where have you been stationed?
CW: I joined in August 2000 and have been with the U.S. Navy Band in Washington, DC ever since.
KM: Where were you before you came to the military?
CW: I had just finished the coursework for my DMA at the University of North Texas and decided to start taking some auditions.  I am living proof that the old adage "no one wins their first audition" is not true!  Granted I was 30 years old and had spent 12 years in college.
KM: What is your favorite basic training memory?
CW: My favorite day was the day we went to the pool.  For Navy recruit training everyone has to pass a swim survival test which includes jumping off a high platform, treading water for 15 minutes, then swimming to the opposite end of the pool.  Then we learned how to make a life preserver out of a pair of pants!
KM: What did your family and friends think when you joined the military?
CW: Well my sister Cheryl had joined about a year before me (she is a clarinetist in the U.S. Army Band) so I think my parents knew what to expect.  My husband was excited, but worried about me going to boot camp.  I think some people were surprised that after pursuing the DMA I was going this route.
KM: What has been your most memorable clarinet moment in the military?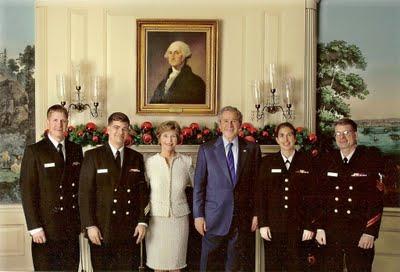 CW: Playing at the White House with the clarinet quartet.  It was around Christmastime and they were having a dinner for the press corps.  The quartet was tasked with playing background music in a hallway while members of the media waited in a receiving line to meet the President.  We played Christmas carols nonstop for almost two hours!  After everyone had gone through the line, we were told to quickly pack up our horns and were led into a room where we also got to meet the President and First Lady.  They had us pose for a picture, and George W. Bush put his arm around me!!  Several of us in the quartet went to school in Texas so we of course started chatting about that.  Mr. and Mrs. Bush were very friendly, but the presidential aides were anxious to escort them up to the dinner.
KM: On an average week, what do you do at work?
CW: My primary duty is playing bass clarinet in the concert band.  Our typical schedule is to have 3-5 rehearsals during the week and a concert on the weekend.  In addition, I may also be asked to play with the ceremonial band, which does funerals at Arlington National Cemetery, retirements, parades, arrivals for foreign dignitaries, etc.  For ceremonies I play Bb clarinet.
KM: Would you encourage interested clarinetists to join the military?
CW: Well, it's not for everyone, but I would encourage others to at least explore the possibility before deciding against it.  There are many musical and financial benefits, even if you only do one enlistment.
KM: What is the weirdest thing you do at your job?
CW: For the last inauguration (January 2009) they decided to shut down all the roads into D.C. for security purposes.  Since we had to be on the bus very early that morning to go play the parade, everyone in the band who didn't live in the district was required to sleep in the band building the night before.  They provided cots for us and a pancake breakfast in the morning.  
KM: What are your after military plans? 
CW: I hope the clarinet will always be a part of my life, but I would like to do something completely different from music when I retire.  I just have to figure out what that will be!
KM: Do you have any regrets about joining the military?
CW: No.  I would have never imagined that I would become a bass clarinetist, but the opportunity arose and I decided to give it a try.  I've been playing bass for 6 years and I'm still amazed at how much I actually enjoy it!  If not for being in a military band, I would not have had access to an instrument and playing in a large ensemble is a great way to learn.  I also love the people I work with.
KM: It seems like everyone was in a military band at some point, and there's always that gossip about which great symphony players were in the military. Who is someone you know that was a military musician at some point?
CW: Larry Combs, Howard Klug, Larry Bocaner
KM: What is the number one question you get asked by the general public after a concert? 
CW: What do you DO in the Navy?  Do you ever go on a ship? What is the difference between red and gold? (Red service stripes are for people with less than 12 years of service, gold for more than 12.) And my favorite comment (from the elderly gentlemen) is Wow, they didn't have sailors like you back when I was in the Navy!
KM: Do you feel any more or less patriotic than you were before being in a military band?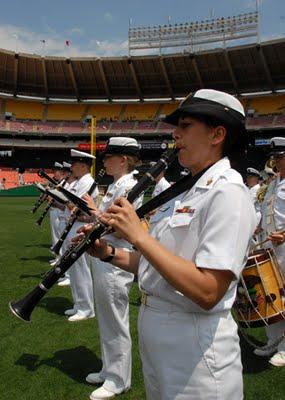 CW: More.  I will never forget seeing the smoke coming from the Pentagon on 9/11 or the way our audiences rose to their feet and started singing along during America the Beautiful on our Spring 2002 national tour.
KM: What is a question you would ask other military clarinetists?
CW: How do you stay motivated to practice?  What kinds of playing opportunities do you have outside of the band?
KM: What is your favorite note on the clarinet?
CW: Low D on the bass clarinet.
KM: What is your most memorable musical moment?
CW: About a year ago, we had Dr. Mallory Thompson as a guest conductor.  The program included David Maslanka's Symphony No. 4, Bach's Toccata and Fugue in d minor, and John Adams' Short Ride in a Fast Machine.  Dr. Thompson was amazing to work with and that concert was the best the band has ever sounded.
KM: If you could magically wake up and play any kind of music, what would you do?
CW: I have always wanted to play the cello.
Thanks Cindy, I really enjoyed reading your responses! Look for Clarinetists in Uniform in The Clarinet to find a compilation of the military band clarinetists I've interviewed with some new bonus material!!!