How do you like your heroes and heroines?
I like heroes and heroines to be complementary—to meet each others' unique needs.  Sometimes that means they're opposite personalities.  In this book, however, Bram and Susanna are quite similar – "two examples of the same rare breed", I think Bram puts it.  They're both strong natural leaders with hidden weaknesses, so they're able to challenge and understand each other on a deeper level.

What do you think that will make readers fall in love with Victor Bramwell?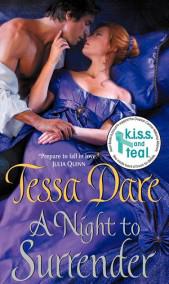 Bram is a true leader:  strong, honorable and dedicated.  But he's also vulnerable, in ways he'd rather not admit, both physically and emotionally.  He likes smart women, freckles, and romantic moonlit liaisons on the beach.  And he can steam up even the coolest inlet.
Could you describe, without giving too much away, your favorite scene or moment from A NIGHT TO SURRENDER? Why is it your favorite?
One scene I had great fun writing was the scene where Bram's neer-do-well rakish cousin, Colin, drills the militia recruits in the ways of seduction.  I let him riff on the Old Spice Guy commercials a bit and generally just had a blast.
What's your best line of dialogue?
From this book?  Gah!  It's so hard to pick something that sounds right, when taken out of context.  I mean, I'm could say I'm particularly fond of a scene where Bram says, "No."  But that line's not especially impressive when removed from the rest of the scene!
I will cop out and say I always love the "I love you"s. In every book, whether it's mine or one I'm reading.  Those declarations of love are what make the book for me.

Please tell us five fun facts about A NIGHT TO SURRENDER, that readers would love to know!
In the course of the book:
Sheep are bombed.
Cows attack.
Men assert their manliness.
Women reach for their guns.
Love conquers all.

How would you define "romance"?
My personal theory of romance, which often comes out in my novels, is that we're all looking for the person who accepts us for our worst selves, but empowers us to be our best selves.
For you, what makes a romance novel a great love story?
Oh, gosh.  I think the characters are what make a romance for me.  If the characters are so well-rounded and realistic that I find myself thinking about them long after I turn the last page… that, to me, is a great romance.
(Spindle Cove, #1)
by Tessa Dare
August 30th 2011 by HarperCollins Publishers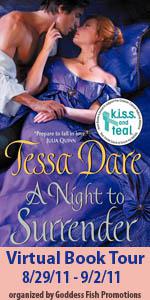 Welcome to Spindle Cove, where the ladies with delicate constitutions come for the sea air, and men in their prime are . . . nowhere to be found.
Or are they?
Spindle Cove is the destination of choice for certain types of well-bred young ladies: the painfully shy, young wives disenchanted with matrimony, and young girls too enchanted with the wrong men; it is a haven for those who live there.
Victor Bramwell, the new Earl of Rycliff, knows he doesn't belong here. So far as he can tell, there's nothing in this place but spinsters . . . and sheep. But he has no choice, he has orders to gather a militia. It's a simple mission, made complicated by the spirited, exquisite Susanna Finch—a woman who is determined to save her personal utopia from the invasion of Bram's makeshift army.
Susanna has no use for aggravating men; Bram has sworn off interfering women. The scene is set for an epic battle…but who can be named the winner when both have so much to lose?