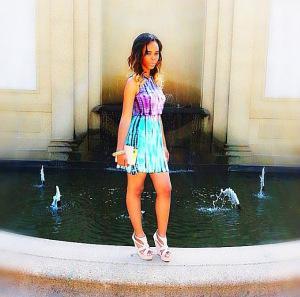 Sierra Gaines is a 21-year-old senior at Louisiana State University majoring in fashion merchandising with a minor in business. She is a fashion blogger at SierraSharae.com, with a YouTube channel entitled Sierra Sharae.
           One would probably picture a young Gaines as that little girl who was always in her mother's makeup and heels. On the contrary, she had a laid back style, mainly sporting a t-shirt and jeans. She credits her cousin Trina for exposing her to fashion. By spending time with her, Gaines gradually became more interested in it.
   It was not until she turned 17 and started working at Rio's, did she realize her passion. She knew she wanted to make fashion her career. Rio's is a boutique in the Cortana Mall that sells club and party clothes. There, she did pretty much everything you could imagine. She made orders with vendors, she unboxed and sorted shipments and she made sure merchandise was always presentable. She even went above and beyond by helping customers find the right look.
"I would help the customers," Gaines said. "So that's opening up dressing rooms, helping them find the things that they need and when something wasn't working for them, I'd find a way to tell them, 'This is not working, maybe be could find something else.'"
Her drive for fashion along with the hard work and late hours she put in at Rio's was rewarding in the long run. She was promoted to assistant manager and key holder of the store.
When Gaines arrived at LSU, her original major was business because she was unaware of the fashion program. She made the switch to fashion merchandising because the classes were more specialized in what she is trying to do. Gaines describes fashion merchandising as a glamorized economics class. Her main focus is on entrepreneurship.
In October 2013, Gaines started making YouTube videos to make a voice for herself. In December 2013, she launched her website, SierraSharae.com, after she broke up with her boyfriend. She had more time on her hands to do something productive and keep her mind off of being single. Her site includes advice posts, YouTube videos, voting polls, a section where readers can ask questions and a section where she sells clothes from time to time.
Gaines has sold pieces such as a leather skirt and a chiffon shirt.
"I wanted to see if I had what it took," Gaines said. "While I was selling the leather skirt, I was doing the video that showed how to wear it."
When she eventually opens her boutique, that is one of the things she wants to do, show different ways to wear a particular item.
"I feel like that makes people more interested in buying it, if they know how to wear it," Gaines said. "That's what always keeps people from, buying things. They don't know what to do with it. They don't know where to wear it to."
By making how-to videos, Gaines hopes to build a platform for herself and build her name up so when she does have her boutique people will already know her and she will be more credible with fashion.
"People will be like, 'Oh yeah, that's the girl who makes videos. I like the way she dresses,'" Gaines said. "They'll be more loyal to you than somebody they don't know who just started a boutique."
Although Gaines's current focus is on fashion, she would like to branch out and do more such as makeup tutorials and advice videos. She wants to be well rounded so she has something for everyone.
Gaines shows another side of her creativity and love for the camera with her parody of A$AP Rocky's F**kin' Problems entitled Shoppin' Problems. She paired up with chemical engineering senior Kareem Awad to write a song to help promote her YouTube channel and blog. He helped her write the lyrics and record the song.
"Sierra is a very unique person. She stands out from the rest," Awad said. "She's good at putting her brand out there, giving herself a name and showing how much work she puts in really makes a difference and puts her foot in the door."
Awad has known Gaines since kindergarten but only recently became good friends with her in high school.
Gaines not only blogs and makes YouTube videos but she also models and styles. She has modeled for the Rouge Collection, a local Baton Rouge magazine and for BCBG Max Azria's Spring 2014 line at the Mall of Louisiana. She has styled for LSU's Annual Hemline Fashion Show, where she got to work alongside Project Runway's Anthony Ryan Auld. Gaines has worked with vintage sales at LSU and has volunteered for New Orleans Fashion Week. To add to her experience, she will be doing a field study in New York City in the future.
Gaines has proved and continues to prove how qualified she is to work in the fashion industry. Her YouTube video, How to Wear a Leather Skirt, has received over 19,000 views. Gaines has six different looks, each including pieces you may already have in your closet.
My favorite look is the pin-up with a t-shirt look. For this look Gaines pairs her skirt with a graphic tee, fishnet stockings, peep-toe heels, and red lipstick. For an even more laid back look Gaines recommends wearing combat boots. To find your favorite look check out the Sierra Sharae website or YouTube Channel.
Also, don't forget to check out her latest video, Summer Time Look book!