This week I have the pleasure to interview Rachel Lyndhurst the author of STORM'S HEART , her first book, published on feburary by Embrace Books. You can check my review here before reading the interview if you like!

What books have influenced your life most?

I borrowed The unpleasant profession of Jonathan Hoag by Robert Heinlein from the library when I was very young – about nine I suppose – talk about haunting me to this day! I hear rumours it's being made into a film this year, which is really exciting, because that book started a lifelong addiction to books and their alternate worlds. Later, in my teens, 1984 by George Orwell changed the way I looked at the world (government and authority) forever.

Tell us your most rewarding experience since being published.

My children boasting about their mummy being a writer at school.

How has the reader response been so far for STORM'S HEART? What has been the highlight of its release?

The reader response has been fabulous; I've not had a single truly bad review, which is amazing! A highlight of its release is me acquiring a new nickname: Six. This is due to the nature of chapter six, it's hot …

What's your favorite scene or moment from STORM'S HEART, and why? Can you comment about it without giving too much away?

Chapter thirteen, the black moment is my favourite, as I've been told by a number of people that it made them cry. That's something every writer wants to do – wring out the emotion!

What's the craziest writing idea you've had?

I'm working on it right now – watch this space!

How come you decided to start a blog?

I started a blog the minute I knew I'd 'sold'. In this digital age it's an essential part of any writer's tool kit. Interaction with your readers and potential readers is as vital as being accessible on Facebook and Twitter. It's also quite a lot of fun!

You have won one million dollars what is the first thing that you would buy?

A bigger house with a dedicated garden office and a ten feet high wall all the way round.

If you could change one thing about the world, what would it be and why?

That's a mean question! There are so many things, but if I had to choose, it would be to stop children dying. It's a part of life I find completely unbearable.

Do you have any specific dream you wish will come true?

Right now, I'd like to write a book that's subsequently made into film. The Heinlein novella I mentioned above was originally written in 1942, so it only took 69 years …

What is your favorite fairy tale? Why?

I don't think I've got a favourite fairy tale actually, but I could read The Magic Faraway Tree stories by Enid Blyton forever. It's something to do with the idea of being able to climb a tree and find a different world at the top of it every time – an escape from reality, I guess. And there's also the collection of Arabic folklore stories in One Thousand and One Nights which I still find amazing; stuffed with colour, mysticism, barbarism and humour. Wonderful.

What are you working on at the moment?

I currently have another category romance finished and 'resting', another romance started and the 'crazy' writing idea is getting most of my attention right now. I'm saying no more about that one!

And here's my last question: How would you define "Romance"?

Romance is the feeling of excitement and mystery associated with a love affair. It's a quality that achieves remoteness from everyday life, which can involve loving another person, the landscape, the sea, a work of art, in fact anything that seizes and consumes you.
For the latest information about Rachel Lyndhurst's work you can follow her on Twitter and Facebook.

To read her awesome blog go to: http://rachellyndhurst.blogspot.com/
Rachel has kindly provided an ebook copy of her book as one of the prizes of the Small Blogs, Big Giveaways event!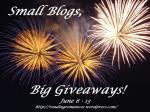 Sign up to host the big giveaway here!