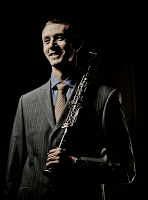 New York area clarinetist Sam Kaestner has been a member of the West Point Band since 2002. Since joining the band, he has performed with the New York Philharmonic in Lincoln Center's Avery Fisher Hall, at the Dallas Symphony's Meyerson Symphony Hall, as well as at other venues throughout the country. Sam has appeared as a soloist with the West Point Band on numerous occasions. He has participated in recitals at the Juilliard School, the University of Southern California, Indiana University, Cincinnati Conservatory, the Oklahoma Clarinet Symposium, the Potsdam Clarinet Summit, and at West Point. Sam has recorded with the Dallas Wind Symphony, West Point Woodwind Quintet, West Point Band and the Academy Clarinet Quartet. In 2009, he performed a recital with Toronto Symphony bassoonist Sam Banks at Butler University that commemorated the 200th anniversary of Felix Mendelssohn's birth. Within the band, he is a member of the West Point Woodwind Quintet and the Gray Line Clarinet Quartet. Prior to joining the band, he attended the Peabody Conservatory of the Johns Hopkins University where he was a student of Edward Palanker and Anthony Gigliotti, and Northwestern University where he was a student of J. Lawrie Bloom. Sam currently resides in Ridgewood, NJ.
KM: When did you join the military and where have you been stationed?
SK: I joined in 2002, right after graduate school. I won the job at West Point in the spring of my last year at Northwestern, and went to basic training five days after I graduated. I've been at West Point for my whole career.
KM: Where were you before you came to the military?
SK: I grew up in Richmond, VA, then moved to Baltimore to do my undergraduate degree at Peabody. After Peabody, I moved to Chicago to go to Northwestern.
KM: What is your favorite basic training memory?
SK: Before I joined the Army, I was not especially physically fit. I had messed one of my knees up badly playing soccer in high school, and the surgery almost kept me from joining the Army. the entire time I was in basic, I was worried that my knee would give out, and I would end up either staying in basic longer, or getting kicked out of the Army and losing my gig before I even played a note. I remember very clearly cresting the last hill on the last long road march after our field exercise, which was the last thing I had to do before I graduated, and knowing that I had made it through.
KM: What did your family and friends think when you joined the military?
SK: My mom was pretty shocked. She was a big hippie in the 60s and it took her a while to come to terms with a son in the Army. Pretty much everyone else thought it was great, and had a good understanding of how lucky I was to have won a full-time job.
KM: What has been your most memorable clarinet moment in the military?
SK: Several years ago, the clarinet quartet I was in at the time, the Academy Clarinet Quartet, went on tour to Los Angeles. One of the performances was at USC with the L.A. Phil's bass clarinetist, David Howard. We played John Parrette's transcription of Mozart's *String Quintet, K. 406*, which is Mozart's transcription of the *C Minor Wind Serenade*. David played principal clarinet on the piece and I played bass. It's a very challenging part, as any bassoonist who has ever had to play the last movement can attest. After we played the Mozart, the quartet alone played the first two movements of my own arrangement of Bela Bartok's *String Quartet No. 2, Op. 17*. The piece is a big challenge, and I was sweating bullets playing not only in front of David Howard, but also some fantastic clarinet students in the audience. The entire performance went extremely well. After the gig, David pulled me aside and told me he really enjoyed my playing and encouraged me to take orchestral bass auditions because he thought I could compete and possibly win. It was great to have that kind of feedback from someone I respected immensely.
KM: On an average week, what do you do at work?
SK: There is no such thing as an average week for me. I do a lot of different things. Most weeks, I play bass clarinet in the concert band. I'm also the clarinetist in the West Point Woodwind Quintet, so we usually rehearse about once a week, sometimes more. I am the Artistic Liaison for the Concert Band at work. That means I try to find exciting gigs for us to do, help with programming and the general musical direction on the Concert Band. It is an exciting position, but can take up a lot of time. I also work in the publicity department, so some weeks I am writing press releases, overseeing mass mailings, doing radio interviews and other things. In addition to all that, I give occasional lectures to cadet classes. Earlier this year, I gave a lecture to a Shakespeare class examining incidental music used in Shakespeare's plays from 1600 through 1952. It was a mixed presentation of lecture, recordings and performance. I'm scheduled to do several more in the coming academic year.
KM: Would you encourage interested clarinetists to join the military?
SK: Of course, but it's not for everyone. As you can see from my description above, there is a lot more to being a member of a military band than just playing your instrument. If you are prepared to be flexible, a military band is a great gig. 
KM: What is the weirdest thing you do at your job?
SK: I'm getting ready to teach cadets land navigation. That's certainly something I never expected to be doing, but it will be a new experience for me. I'll also get to have some pretty fancy training on land navigation, which will come in handy. I'm an avid backpacker, so it will definitely be useful for that.
KM: What are your after military plans?
SK: Keep playing clarinet as much as possible.
KM: Do you have any regrets about joining the military?
SK: Occasionally. I see people who I went to school with who have won big jobs or are playing in great ensembles regularly and think that I could be doing that. But, the West Point Band is a great band, and I've gotten to do some amazing things.
KM: It seems like everyone was in a military band at some point, and there's always that gossip about which great symphony players were in the military. Who is someone you know that was a military musician at some point?
SK: Jim Ognibene, the bass clarinet player from the Met was in the Marine Band for a few years.
KM: What is the number one question you get asked by the general public after a concert? (For example: so you are IN the army?)
SK: They usually want to know what year in school I am. The West Point Band is not made up of cadets, so I usually end up explaining that, and how I came to be in the military.
KM: Do you feel any more or less patriotic than you were before being in a military band?
SK: More. I can't say I was at all patriotic before joining the military. It's just not something I thought about. Seeing teary-eyed veterans stand when we play their respective service song is a meaningful experience.
KM: What is a question you would ask other military clarinetists?
SK: What's your strategy for dealing with the endurance challenge of playing a 90-minute band concert?
KM: What is your favorite note on the clarinet?
SK: Low E. On bass clarinet it would be low D, below the bass clef.
KM: What is your most memorable musical moment?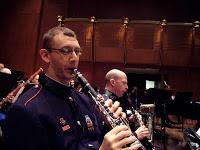 SK: During a joint concert with the NY Philharmonic, we played Morton Gould's West Point Symphony at Avery Fisher Hall, just the band. It went very well and the sold out audience went nuts afterwards. It was an amazing experience, literally sitting in Stanley Drucker's chair (just by chance, with how the band was set up) and having that reaction to our performance. We even got a nice     write up in the NY Times. 
http://www.nytimes.com/2010/07/03/arts/music/03band.html
KM: If you could magically wake up and play any kind of music, what would you do?
SK: I'd be a jazz saxophone player. I used to play jazz all the time. I played tons of jazz gigs in undergraduate and graduate school and even played in the West Point Band's Jazz Knights for a year. They asked me to join instead of heading back to the concert band. I absolutely love jazz, but have found it really tough to keep it up while meeting the demands of playing classical clarinet at a high level.

Thanks Sam! I enjoyed reading your responses!