TAKEAWAY: He has been one of the most influential newspaper infographics artists of the past 20 years. Now, Jeff Goertzen will join USA Today. We conduct a three minute interview with Jeff.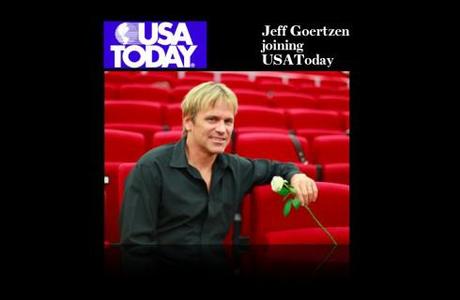 Jeff Goertzen has been named Director of Graphics for Gannett Digital and USA Today, effective November 28. Jeff's new position is charged with directing the visual storytelling in multimedia, especially the iPad. "I'll be working to elevate the quality of work in the graphics design department in print then  transition their work into multimedia," Jeff tells me.
Here is my interview with Jeff as he embarks in this new professional advanture in what has already been a meteoric, successful career as one of the world's leading infographic experts.
Mario: . Jeff, you have had a wonderful career, a glorious trajectory as one of the true masters of infographics. How do you see the state of infographics worldwide today?
Jeff:
We're seeing informational graphics being used as an element of communication and education on a global scale like never before. And the level of creativity and quality of work is amazing. First of all, computers and softwares have made us more efficient in our craft. Thanks to Photoshop and 3D programs, artists can create some incredible work in a fraction of the time that it took to create 20 years ago. Also, the digital platforms we have at our disposal have enabled us to use interactive software to present layers of information in the most creative and entertaining ways.

But the social networking among graphics artists has been the biggest influence. Countless web sites and blog sites have created a feeding frenzy of learning and inspiration among artists worldwide. It amazes me how these artists use their own successes and knowledge to inspire and encourage each. No secret of the trade is left untold. It's like a virtual workshop.

Mario, 20 years ago informational graphics were nearly non-existent in many news publications outside the United States and UK. Today, we have informational graphics artists all over the world. And the work is amazing. It's viral.
Mario: USA Today is, undoubtedly, an icon of visual journalism, and perhaps one of the most influential newspapers of the past 40 years in terms of design, color, graphics. As you begin your tenure there, what do you see as your major challenges?

Jeff:
Without a doubt, the first challenge will be to building the trust and bond with the staff needed to move forward. When a new leader arrives, there's always a certain amount of uncertainty and anxiety. They don't know you and you don't know them. Change is always difficult, even with me. The staff will need to know that we are all in this together and that their talent and participation is critical in achieving our goals.

The next challenge will be to make the transition from print to multimedia. The artists at USA Today were trend setters back in the days when it was only about print. No other newspaper has been as influential and imitated as much as USA Today. The graphics design department has a tremendous amount of talent and some legendary veteran artists, like Sam Ward, Suzy Parker and Web Bryant. This department now has an incredible opportunity to reinvent itself and set new trends across all platforms in multimedia. To be a part of this is humbling.
Mario: What made you make the move to USA Today?
Jeff:
It was definitely God that made this all happen. I've been happy here in Denver and my family and I were never looking to move. But once I saw what USA Today is doing in digital media and what my role would be there, I knew God was blessing me with an opportunity of a lifetime to totally reinvent myself. The added bonus is that I will be working under the management of Jeff Dionise, who is one of the most talented and creative persons I've ever met.
TheMarioBlog post #875