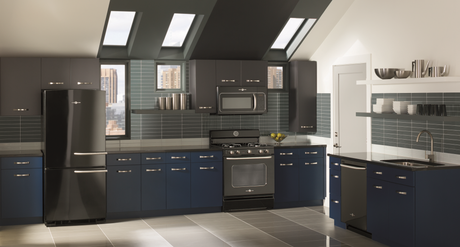 Classic looks meet modern design in a new line of GE appliances designed by a young designer for those of his own generation. The GE Artistry line is now available at Goedeker's, and we wanted to celebrate the arrival with a special feature, including exclusive interviews with the team behind the unique series.
The GE Artistry line of appliances in noticeably different. The appearance is more simple, and there is nothing digital on the range or refrigerator models. In fact, the backsplash of the range sports an analog clock. The simplicity of the design should help coordinate the appliances with a variety of decor styles in a variety of homes, making it easy to incorporate into any kitchen.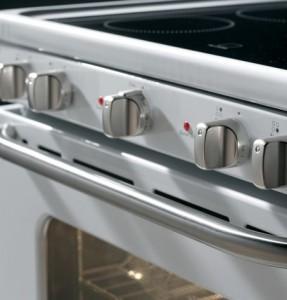 The new line is focused on providing the best value at a competitive price point, so that they are affordable as well as stylish. The touchpoints – those parts of the appliance that you interact with directly, such as knobs and handles, are metal. In this way, you get the feel of a pro appliance every time you use an Artistry appliance, but at a much less expensive price.
GE describes the artistry line as a series "for millennials, by millennials." The retro-meets-modern style is based on contemporary trends chosen by the younger generation; those who are heading out on their own, purchasing new homes, and starting families and careers. GE's designer, Tomas DeLuna, is part of that generation, and at the relatively young age of 27 was was chosen to lead the design project for the Artistry line.
Tomas DeLuna got his start in design drawing cars that he saw only in his mind's eye when he was younger, while growing up in Detroit, MI. While studying design in school, he took part in an internship at GE. He was hired on as an employee for the company right out of school.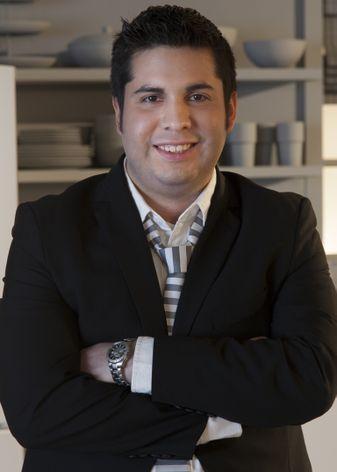 Designer Tomas DeLuna took some time out of their busy schedules to answer some questions for Goedeker's.
Goedeker's: In creating a line with your generation, what were your influences?
Tomas Deluna: The inspiration for the line was comprised of a couple of things:
From a number of our recent consumer research studies, I've seen a trend for appliances that are simple without the bells and whistles – just the essentials. I hear a lot of "I just want a simple, easy-to-use appliance that looks good."
During my research, I also noticed other businesses such as Target and Ikea, that execute the notion of "affordable style" remarkably well. They do a great job at executing simple products, but really concentrating in areas most important to the  user. These two ideas meshed really well, and naturally set up the design intent of Artistry.
Goedeker's: How did you choose the design elements that distinguish the artistry series? What aspects of our past design elements spoke to you  and warranted inclusion in the final products?
Tomas DeLuna: Artistry's color palette; critical touch points, such as the knobs and handles; and the GE badge design are all tailored to communicate affordable style. Knowing that Artistry is meant to be an easy to use, accessible series of appliances, being inspired by products from the past with a modern interpretation seemed natural. I really think this "nod to the past" aesthetic does a great job at unapologetically communicating simplicity and affordability.
Goedeker's:The official announcement from GE stated that the line is in part expected to "disrupt" the market. Can you give some examples of how the Artistry line bucks current design trends?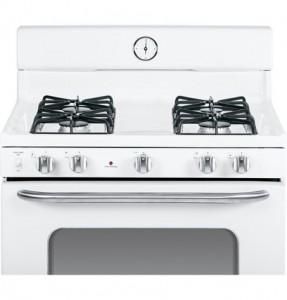 Tomas DeLuna: When thinking about the big picture or macro trends, there is a trend that more is better, and that technology is the answer to tasks at hand – more features, technology, and speed. In that respect, Artistry is bucking that trend in the kitchen by holding to the timeless design concept that less is more via a simple feature set that is very intuitive. It also means that in a retail setting – with similarly priced models – GE's new Artistry Series will stand out.
GE Brand Manager Steve Hopmann came up with the idea of an exclusive line for the younger generation as they entered into adulthood, and answered some of our questions about the new line's place in the market.
Goedeker's: How did you identify the need for appliances for Millennials?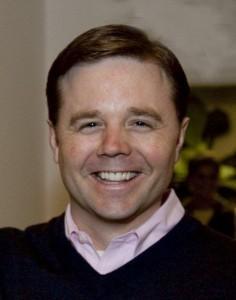 Steve Hopmann: Younger consumers who are first-time home buyers, newlyweds, new parents, etc. want quality home appliances from a brand they know and trust, but in today's market, most of those appliances look the same. GE wants to surprise them with the new and unique appearance of the Artistry Series that's not offered by other manufacturers. We also know these consumers have tighter finances, but still want to have a great looking kitchen. We think the combination of great design at an affordable price is a big win in the marketplace. 
Goedeker's: Other than a distinct design, how is the strategy for presenting these appliances to their target audience different than other GE lines?
Steve Hopmann: GE is drawing inspiration from the cool, unique style of the Artistry appliances themselves and has created a digital and social marketing campaign targeting younger consumers that is playful with bold bright colors and dramatic imagery. The campaign also features Artie, the Dalmatian puppy who has yet to decide the color of Artistry appliances – white or black – he likes best.
Goedeker's: Now that the line is available, what kind of reception has it received from retailers, the public, and the press?
Steve Hopmann: From a media perspective it is one of the top stories of the year for our business because never before has an appliance series focused on millennials. The response from retailers and the public has been overwhelming. They love the cool design and overall value of the line. This is a big win for GE Appliances.

Even the badge on the GE Artistry appliances evokes a bygone era.
Currently, the full suite of Artistry appliances includes a refrigerator, range, dishwasher, and microwave. Each appliance sports a retro GE logo with "General Electric" written out. The series comes in black and white. GE states that they have tripled their spending on design over the past two years, resulting in appliances that exhibit more artistic expression, such as the Artistry series.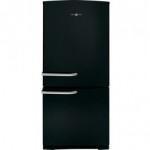 The
GE Artistry refrigerator
is a minimalist design with just two handles and the unique GE Artistry badge, but provides over 20 cubic feet of cold storage. Hidden hinges, gallon size door bins, and superior interior lighting provide the best of classic style with modern advances. As an Energy Star appliance, it is a great deal less expensive to run than the old models it might resemble. Black model ABE20EGEBS,
White model ABE20EGEWS
.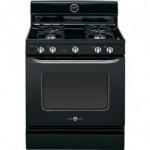 The
GE Artistry Range
grabs attention with its simple approach to an appliance that has gotten more complex in recent generations. The analog clock and metal knobs give you a pro feel in an affordable appliance. Available in black and white, and in either gas or electric smoothop models.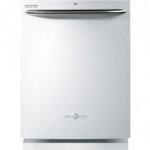 Simplify and speed up your cleanup with a
GE Artistry dishwasher
. It still has plenty of options, including steam prewash, sanitizer cycle, and a hard food disposal. It features a 16 place setting capacity and Energy Star efficiency. Available in black (model ADT521PGFBS) and white (model ADT521PGFWS).
The
GE Artistry microwave
is a over-the-range style with a spacious 1.6 cubic feet of cooking capacity and 1000 watts of cooking power. It also functions as a capable ventilation system for your new kitchen. Available in black (model AVM4160DFBS) and white (model AVM4160DFWS).
The entire Artistry suite can also be purchased as a package deal. GE has announced the entire line would cost just $2,400, but of course at Goedeker's it is considerably less.
Thomas DeLuna introduces and explains the Artistry line concept in this video: