Today we introduce you to Jenna Templeton the face behind My Life as a Magazine. We hope you enjoy Jenna's interview with Paper Runway and her DIY envelopes – something fun for the weekend. x Nikki and Maree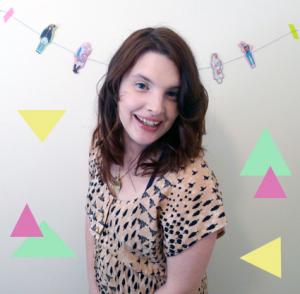 Tell us a bit about you and your background I am a Writer/Designer/Blogger, Self-publisher who grew up in the lower Blue Mountains of Sydney Australia. I have a degree in a Bachelor of Electronic Arts that included units in art, film, music technology and communications. I started my journey of working in magazines by becoming an Editor/Designer of a non-profit online woman's magazine then worked on building my portfolio up by pitching and getting articles published in various online and print magazines. I have always kept a journal growing up (I have books filled up that records every day of my life for a few years) so starting my blog 'My Life As A Magazine' has been a natural progression. With a passion for print media and design I self-published two zines 'My Life In Biscuits' an illustrated biscuit memoir and 'Little book of mt masking tape' that includes crafty ideas and projects using Japanese washi tape. My dream is to be in a job that allows me to be creative every day….and be paid for it!
Do you remember when you first fell in love with paper Today and when I can first remember I have always loved books. As a child I was always curious about how they were made. I had so many beautiful interactive children's books like the ones you lift up different panels, pop-up books, books with holes and cellophane pieces to look through, puzzle books. I think this is what spurred my love for creating my own print media. I also went to a paper making factory once and the smell….so strong, I could still smell paper for a week after that! I too fondly remember my dad showing me a Japanese rice paper book; I was so amazed when he said it was edible!
How do you come up with the idea of "My life as a Magazine"? (very cool name by the way) Ha thanks! I wanted to make a space that included everything I would put in a magazine if I owned or worked at one. It's me, my life in a …. I should say 'blogazine' form.  It's a collection of daily loves that focuses on creative trend reporting by putting the spotlight on up-coming and unique designers, bloggers and also includes Japan and stationery musings, favourite things, book and magazines reviews as well as my own creative projects.
Who or what influences what you do? After travelling to Japan a couple of years ago I was amazed and fell in love with their innovative craft, art and design culture which ignited a new creative view in me that influences a lot of my work. I have a big collection of Japanese books and magazines. I love their page layouts that can be really colourful, fun, Kawaii (cute) busy and have a cut & paste zine style elements, and then others are quite simple with beautiful photographs amongst white open page space. Don't get me started on their wonderful mixed use of kanji, kana and hiragana Typography!
Where do you draw inspiration from? Absolutely everywhere! All aspects of my life, travel adventures/ mementos, Japan, stores, books and magazines, blogs, colours, my journals and scrapbooks, pretty product packaging, gift wrap, 80's cartoons and toys, stationery,  Japanese magazines and books, washi mt masking tape and my huge pile of potential craft and collage materials!
What are you working on at the moment? I am working on another zine, which I hope to release by the end of the year.  I normally have a few projects I am working on at the same time. I am also tossing around ideas to make my own products in a 'kit' form and I hope to run some craft workshops in the near future.
What do you enjoy most about your creations? That they are always colourful and fun and make people smile and feel special.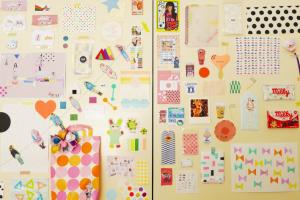 Do you miss them when they are gone or do you keep them on the mantelpiece for all to see! I miss some of my gift wrapping the most as the b'day people obviously get to keep it….or tear it up. For other things like my 'Kawaii Tokyo cut & paste' bag, Snap Tokyo Girls Bunting and other DIY projects featured on my blog have all been stuck onto my 'creative gallery wall' in my study for inspiration.
What are your tools of trade? Every day I use my Laptop, Scanner, Adobe Creative Suite, Blogger, Lumix LX5 camera, inspiration notebooks, journal, washi tape, Japan magazine cut-outs and my pretty paper collection. I also have a big craft box filled with scrap paper, magazine cut-outs, cardboard, fabrics, wool, tissue paper, confetti, felt, pom-poms, self-made stamps, stickers and travel mementos etc.
What do you love most about your business?  I would call my blog, self-publications and creative projects a 'love' instead of a business. Ha! As I don't make buckets of money! I love having the freedom to be creative and turn my ideas into a reality and share it with others on a daily basis.
At the same time I have met and gained some wonderful friends through the zine and blogging community and been given some amazing opportunities – like this one!
What are you most proud of I am most proud of not giving up and having strength to take risks to follow my creative dreams.  I have never had things handed to me; I've instead had to work very hard to get opportunities.  My happy achievements for the year are; gaining more lovely and regular readers on my blog, self-publishing my zine 'Little book of mt masking tape' which includes ideas, collages, designs, gift wrapping and other crafty DIY projects all made using my most loved craft tool – Japanese mt (washi) tape, setting up my online store on Etsy and having the wonderful stores Lark and Little Paper Lane as stockists.  I also had three designs that exhibited in Tokyo's Edition' Paumes 'Pray for Japan' charity exhibition held at Galerie doux dimanche. All money raised for the event went to Japan's Red Cross Society to help those affected in the horrible earthquake and tsunami disaster.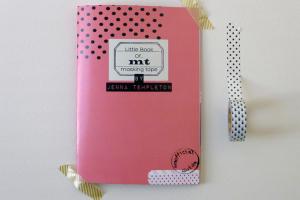 Do you have a "usual" day If I am not out interning at a magazine I am busy in my home study with a spot of tea; applying for jobs in the magazine or creative arena, writing, designing self-publications, pitching, blogging, tweeting, brainstorming ideas, working on creative projects, taking still photography pictures of craft DIY's then photo editing final images to put online or make into a video. There is also a bit of procrastination that goes on…in the chocolate cupboard or on Amazon Japan, Etsy and Pinterest.
Tell us about your dream studio A cosy space in Japan or NY with white walls so I can decorate with lots of colour, polka dots, and inspirational trinkets. Full collection of mt masking tapes, bookshelves with a moving ladder,  
Printmaking station to make my own books, magazines and stationery, gouache, textures and pencils in all pantones, all my ever day crafty supplies and my pet cat.  Having said this I am very happy with my mini-study in my little townhouse home.
How do you describe your style Fun, bright, colourful, quirky, cut & paste, Kawaii (cute) Pop. I always try to put black polka dots in my work too.
Who would you invite to dinner and why Agh! Hard question…I know I could invite anyone, but I still would invite my loved ones and close friends. If I had to name a random few of famous peeps it would be; Walt Disney, Anais Nin, Thomas Newman (movie score composer), Magazine Editors Sarah Oakes and Ita Buttrose,  Peter Falk (love the TV show Columbo) and Japanese book publishers BNN, editions de Paris and Paumes, so I can pitch a book!
Where can people find out more about Jenna Templeton You can find out more about me and my creative adventures via my blog at http://mylifeasamagazine.blogspot.com/ and by my latest creations via my online store at; http://www.etsy.com/shop/MyLifeAsAMagazine
Answer these short questions
* Tea or coffee Tea with a quality chocolate biscuit for dipping!
* Sweet or savoury Sweet. Patisseries are one of my fave places to be!
* Heal or flats Flats all the way
* Night or day mmmm…Day is great for adventures but lots of my best ideas come to me at night.
* Romance or comedy Can I combine them and say rom-com?
Jenna's DIY Envelopes …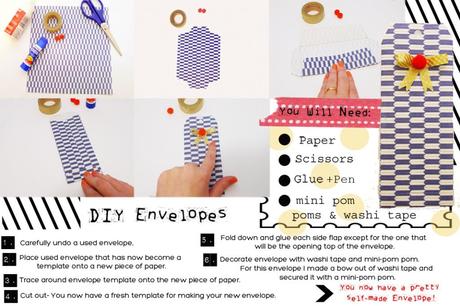 Eco World Content From Across The Internet.

Featured on EcoPressed
Gulf Oil Dispersants