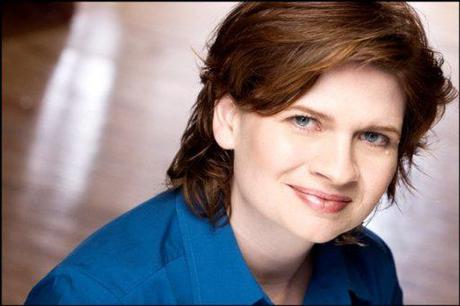 We recently reviewed the terrific new YA novel Monument 14 (click here for the review). This acclaimed book, released in June, currently has a 4 1/2-star average rating on Amazon and nearly 1,000 ratings on Goodreads.
We are privileged to host an interview today with the novel's author, Emmy Laybourne. She started her writing career as a playwright, and as an actress, she appeared in such films as Nancy Drew, The In-Laws, and Superstar. Monument 14 is her debut novel.
And now a few words from Ms. Laybourne!
Story Carnivores: Let's start with a fun one. You're allowed to sit down for coffee with one author, living or dead. Who would it be, and why?
Emmy Laybourne: There are a lot of clever answers I could give here. I could say that I'd like to meet Emily Dickinson so I could tell her that her poems will go on to be removed from her closet and published in every language on Earth. Or I could say Suzanne Collins, so I could do my best to charm her and become her bff so she'd consider writing a blurb for Monument 14: Sky On Fire (the sequel to Monument 14, coming Summer 2013). But I'm going to say Shakespeare. Maybe, maybe, if every author gives this answer if asked this question, one of us will actually get to time travel and meet the bard!
SC: Before writing your debut novel, you were a character actress who appeared in such films as Superstar and The In Laws. How did you transition from acting to writing?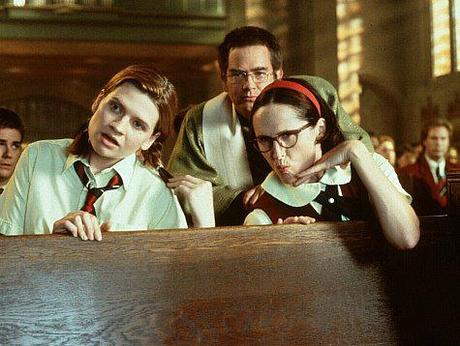 EL: The transition was a pretty smooth one, if a long one. I stopped acting after I had my first child. The lifestyle just didn't work for me as a new child. Instead, I turned to writing, which was always something I had done as an actor – I wrote my own material and I also did ghost-writing and promo-writing to pay the bills from time to time.
SC: You had a small role in the 2000 black comedy Lucky Numbers. As a huge Nora Ephron fan, I have to ask, what was your experience like being directing by her?
EL: Oh, it was so lovely! Thank you for asking me this. She was such a gracious and generous director. I only had one line, but it was a special, featured kind of line. My scene was with John Travolta and I was very, very nervous. Very. We did 3 or 4 takes and then she said, "How do you feel, Emmy? I've got what I need, but would you like to do it again?" I asked to do it once more and I think that was the best take. It was such a kind thing to do for someone with a small role.
SC: Have you always wanted to be a novelist? What about writing do you love?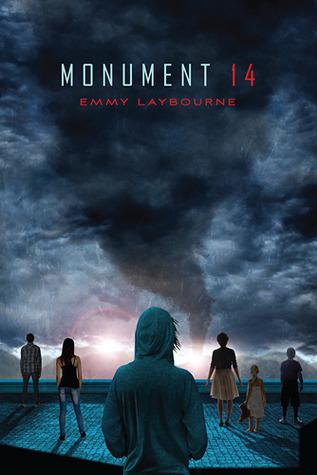 EL: There are many things I love about writing. I love the solitude of the writing time, and the collaborative element of working with my Editors. I loved seeing my name on the cover of a book for the first time! Most of all, I love the moment when a good idea or line of dialog sparks into being in my brain. At those moments, I feel connected to the light-filled creative core of the universe!
SC: I thought the pacing in your book was excellent. How long did it take you to write Monument 14? And how many rewrites did you have to do to get the pacing so perfect?
EL: Thank you for saying that, Brian. It means a lot to me because it's something I worked very hard on. Monument 14 is my first novel and I made a lot of mistakes on the first draft. Without giving any spoilers, I'll say that the biggest mistake was that I wanted certain things to happen over a longer period of time, so the first draft actually had them there for about 45 days. It had this dynamic, fast-paced opening and then it meandered for 300 pages and then had a dramatic ending.
Jean and her wonderful right-hand-lady Holly West, made me realize that the whole thing needed to have the same pacing as the first few chapters. Once I realized that, it was actually pretty easy to go back and take out all the, ahem, filler. But it was a long process. We went through four or five drafts. They originally wanted to publish in the Fall of 2011 – instead,
M14
came out in the Summer of 2012.I will say that I learned a lot in the process and
Sky On Fire
, the sequel, will basically be three drafts and all within just over a year.
SC: Were you wary of writing a novel from the first person of a male character? Or did you never even consider telling this story from one of the female characters?
EL: I never did consider telling it from a female perspective. Once I started thinking about the book, Dean immediately came to the forefront of the characters milling around in my brain and just assumed the position of narrator. The book would have been quite different if it had been from a girl's perspective. Maybe it would have been a love triangle between Jake and Niko and the narrator. And it probably turned some readers off, to not have a female protagonist. But all the same, I think Dean is an excellent narrator and does a good job.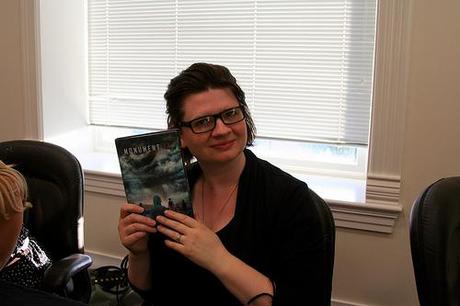 SC: I was happily surprised to not find any zombies in the book. Was it important to you to try to ground this story in as much reality as possible?
EL: I worked hard to make the series of catastrophies as realistic as possible – they are a little far-fetched, I know. But what makes the book feel realistic, in my opinion, is the reactions of the kids to the catastrophies. I relied on something I learned from Amy Poehler, of all people! I studied and performed improv with Amy in New York in the early 90's and her mantra was that your response as an actor always needed to be grounded in the reality of the moment.
Let's say you were improvising in a scene and your scene partner suddenly presented you with a magic carpet. Amy would coach that your response should NOT be something like, "Yes! Now we will fly to Siam and beg the prince for mercy!" Instead she'd tell you to go with, "Holy crap! How did you pay for something like that?! You and your gadgets."
SC: Where do you plan on going in your writing career? Will there be any sequels to Monument 14? And do you plan to write only YA?
EL: Monument 14: Sky On FIre will hit the stands next year. I'm really excited for fans of M14 to read it. The plot is just as dense and taut as the first book, if not more urgent and terrifying!
I am in this career to stay! In the next few days I'll be sitting down with Jean and Holly to figure out what I write next.
SC: Now that you're a successful novelist, will you go back to acting at all, or are you going to write full-time? If Molly Shannon ever gets around to making Superstar 2, would you return as Helen??
EL: If Molly decides to do a Superstar reunion picture I will be there in a heartbeat. I LOVED playing Helen Lewengrub and she still lives inside me and is basically waiting for me to let her come out and play again!
Here's my answer, Brian – maybe when the kids are older. Once they don't need me so much, I'd like to do some improv and maybe go back to doing some alternative comedy shows in clubs. I do miss making people laugh. But in terms of my profession, I'm a writer full-time.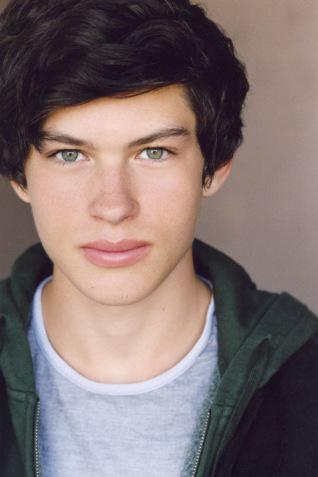 SC: Let's end with another fun one. If Monument 14 were ever made into a movie, what young actor would you like to play Dean?
EL: Ooooh, this is tough for me. Back in June,  I did a dream casting blog post on ProudBookNerd. I mentioned Graham Phillips. Now I'm thinking maybe he's too good looking! I really need your help and the help of your readers: Who should play Dean? And while we're at it: who should play Astrid?
This is the first time I mention it – so here's some breaking news: I have sold the film rights! I can't tell you who has them just yet, but they are trying to get the film greenlit by a studio, so if your readers chime in here, I will actually take the suggestions and get them to the Director of the film! No kidding.
Post them here or at www.emmylaybourne.com
Thanks so much for this interview, Brian. It was really a pleasure!
SC: The pleasure was all ours, Ms. Laybourne! Thanks so much for taking the time to talk to Story Carnivores!
Monument 14 is available on Amazon and at bookstores everywhere. Be sure to pick up a copy and support this talented author!